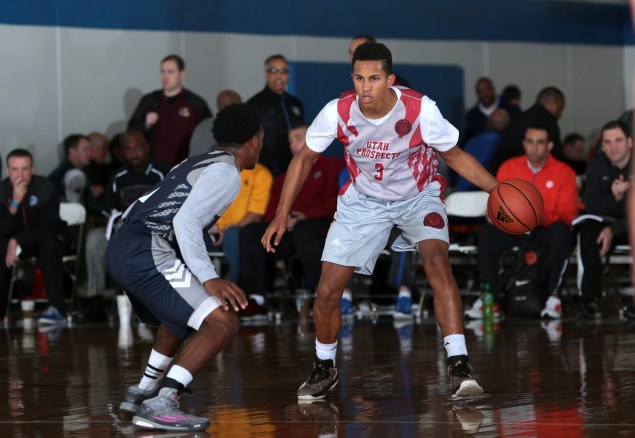 CHARLOTTESVILLE, Va. — Frank Jackson's name doesn't carry the buzz of some of his Class of 2016 counterparts, and while the stars of the Class of 2017 — namely Deandre Ayton and Michael Porter Jr. — have drawn more attention as NBPA Top 100 camp kicks off, there may not have been a more impressive performer in the camp's first two days than Jackson.
The 6-foot-3 combo-guard entered Thursday averaging a camp-high 16.0 points and followed that up with yet another impressive performance in the morning's games. He's got the rep of being a big-time scorer with deep range and explosive athleticism, and that certainly won't be changing after the way he played in front of a myriad of scouts this week. What may change, however, is the position that he is viewed as. Jackson is a scorer more than he is a distributor, but he's quite capable of playing on the ball and is more efficient than most shoot-first lead guards. In other words, his future may be as more of a point guard than off-guard.
The big question for the Utah native and former BYU commit, who is currently ranked 31st nationally by Rivals, is whether not he will take a Mormon mission prior to his collegiate career beginning. In other words, it is yet to be determined whether or not he will be enrolling in 2016 or 2018. Jackson previously told NBCSports.com that he will be taking his mission, but he has since softened on that stance, telling reporters this week that he's not made an official decision yet.
Whenever he does reach college, Jackson will be a highly-valued commodity. He plans on visiting Duke, Maryland and North Carolina — the reigning champs and the preseason top two teams for 2015-16 — after Top 100 camp comes to a close.
[youtube=http://youtu.be/3tZMKbppMI0]
Virginia's back court of the future is promising: Tony Bennett may have lost a commitment from Sacha Killeya-Jones, but he still has three kids in the Class of 2016 planning on attending Virginia, and it just so happens that two of them — Kyle Guy and Ty Jerome — are playing together at NBPA Top 100 camp, which is ironically enough being held on UVA's campus.
Jerome and Guy both fit Bennett's style perfectly. Neither are overly flashy players, but they're tough, they have a high basketball IQ and both are skilled enough to either play on the ball or off it. In other words, they have the ideal skill set and temperament to play in Bennett's system.
Maybe there's a reason he's built Virginia into a top ten program …
M.J. Walker is still a two-sport star: Walker has long been on the radar of college basketball's elite, as the No. 16 prospect in the Class of 2017 continues to stockpile offers. Maryland and Memphis have both recently offered the 6-foot-5 shooting guard, while Kentucky has reached out as well.
Walker, who has already won a pair of state titles in hoops, is also a high major football prospect as a wide receiver, adding offers from programs like Auburn and Ole Miss. I'm sure Bruce Pearl and Andy Kennedy would welcome Walker on their roster should he pick either of those football programs, but Walker has not yet made a decision on whether he will play football, basketball or both in college.
"It's still an option," Walker said of being a dual-sport athlete, adding that Georgia and Michigan have recruited him to play both sports. "I have thought about it, and I know it's going to be tough, but I think the decision will come during my senior year."