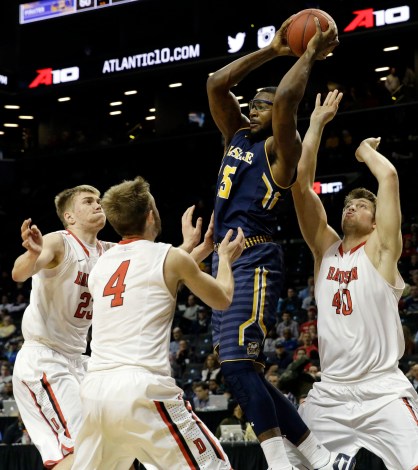 The spring can be an anxious time for college basketball seniors approaching graduation, as the need to finish strong academically combines with workouts geared towards lining up a job in professional basketball. That's what awaited La Salle forward Jerrell Wright at the conclusion of his senior season, but there was something else on the Philadelphia native's plate.
That additional responsibility was a special one however, as he was selected by his high school alma mater (Dobbins Tech in Philadelphia) to give the school's commencement speech June 16. The opportunity arose when Rich Yankovich, who was the head basketball coach at Dobbins for 34 years, reached out to a former player who's now an assistant at La Salle.
"One of the old coaches at Dobbins, Coach Yank, contacted coach [Horace] Owens and recommended that I speak at Dobbins' graduation," Wright told NBC Sports earlier this week when asked about how he landed this opportunity.
While Wright was certainly productive on the court for the Explorers, averaging 12.1 points and 6.5 rebounds per game and earning second team All-Big 5 honors, just as important was what he was able to do as a leader and in the classroom. Wright recently graduated with a degree in sociology, and throughout his time at La Salle the Philadelphia native made strides both on and off the court.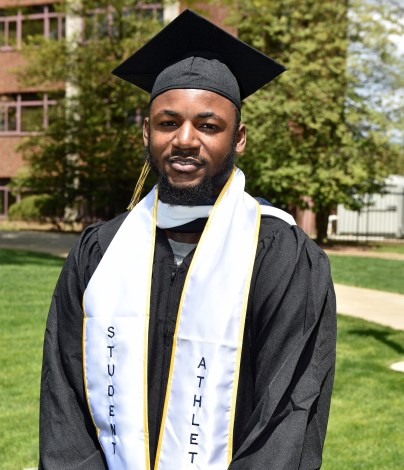 "The way he grew was in confidence, especially socially and academically," Dr. Giannini noted when asked about Wright's development. "There are some really good students coming out of Philadelphia public schools, but there are others who are underprepared and college can be a big adjustment. I think it was an adjustment for Jerrell, but in his first year he won our program's most dedicated student award."
Wright's commitment to doing well academically began even before he set foot on the La Salle campus, as before his senior year of high school he did something that few basketball players with Division I ambitions would be willing to do.
"The other really neat thing about Jerrell is that he chose not to play AAU going into his senior year," Dr. Giannini said. "He had already committed to La Salle, and he chose not to play to focus on his academics to make sure he would be eligible as a freshman. How many kids are not making that decision and wind up not being eligible? He was making good decisions even before he got to La Salle, and he continued to work hard."
Given his path to a college degree, which opens up doors outside of a possible career in professional basketball, Wright's a good choice to address young people sitting in a position similar to his. And this won't be the first speech that Wright's given at his alma mater either.
Last summer Wright's jersey was retired, a high honor at any school but especially at one that has produced some of the talent attended Dobbins Tech. Among those who played at the school are the aforementioned Owens, the late Hank Gathers, his close friend and Loyola Marymount teammate Bo Kimble, current South Carolina head coach Dawn Staley, and former La Salle guard Doug Overton (just to name a few).
But the nature of this particular speech, one in which his achievements including basketball are the reason for his selection, makes it special in a different way for Wright.
"It's an honor for them to bring me back, knowing how many people have graduated from Dobbins who have been successful in life," Wright said. "I would like to thank them for allowing me to come back and speak. I'm proud that out of all the people they could have picked, they picked me to come back and give the commencement speech."
Wright will be the second person with a connection to the La Salle program to give a commencement speech this spring. Dr. Giannini returned to his alma mater, Fenwick High School in Oak Park, Illinois, to give the keynote speech at that school's graduation in late-May. And the coach has been one of the people who have assisted Wright as he goes through the process of planning a speech that's different than the one he gave last year.
"It's been tough because this speech isn't based [solely] on basketball, but on graduation overall," Wright said when asked how the process was going, noting that he was nearly finished with the speech. "It's been tough, but I've had the help of Coach G and my academic advisor Christine [Cahill] and we got through it."
People from many walks of life give commencement speeches, from the internationally famous to those whose greatest impact is felt within their own community. For some students, the words they most identify with come from those who have lived the experiences they're going through themselves. And regardless of what he managed to do on the basketball court, Wright's growth in other areas are what make him a quality influence for the youth of his neighborhood, and why he was chosen to speak at his high school alma mater.
"When you hear a message from one of your own who just a few years ago was in your position, a person who really had to work to get to where he is, the kids immediately recognize that," Dr. Giannini said of Wright. "'This guy had to work hard like me, and now he's got a college degree, is on the verge of playing professional basketball and will get a good job whenever basketball's over with.'
"I think the phrase "role model" is used a lot by adults and kids think it's a little bit corny, but I really think they do look to Jerrell as a role model."