College basketball court designs keep going in bold new directions and Manhattan's new home floor is certainly one of the bravest in recent memory. The green court is going to really stand out on TV and I'm anxious to see how it looks against some visiting team uniforms this season.
The Jaspers announced the new floor for Draddy Gymnasium in a release.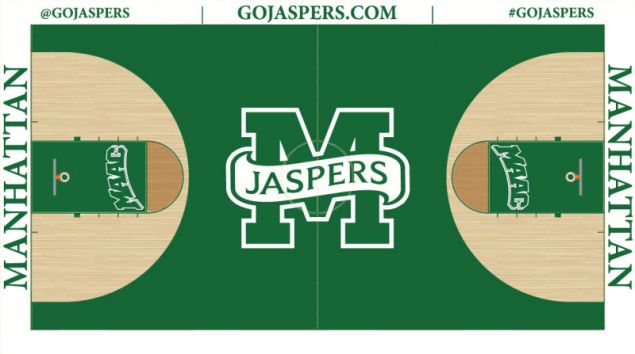 The release is filled with pro-green sentiments from athletics director Noah D. Levre and head coach Steve Masiello.
"The new basketball court design gives us a unique look and helps further the Manhattan College brand … we want to own the color green," LeFevre said in the release. "How facilities appear matter and I am happy with the way this important component turned out."
Masiello also likes the new floor and even named it the "Green Monster." I'm not sure that name will stick, but it's an idea.
"I can't tell you how excited we are about the new court, which will add to the Manhattan brand,"Masiello said in the release. "It will be another area in which we separate ourselves in college basketball. It will now make Draddy Gymnasium one of the hardest places to play because of the Green Monster."
Manhattan is certainly trying to own the color green in the college basketball landscape.