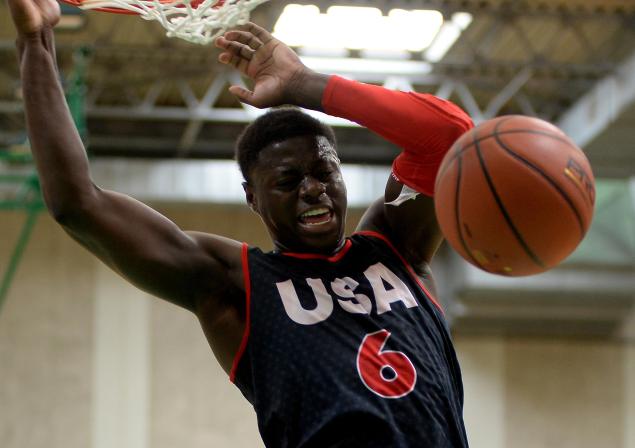 Class of 2016 four-star guard Rawle Alkins is off to a great start this summer as he followed up a strong performance at the Pangos All-American Camp with a strong showing at the adidas Eurocamp on Saturday. The 6-foot-4 native of New York had 18 points, five rebounds and two assists to lead the USA Select Team to a win over the France U20 team.
Playing at the adidas Eurocamp is a big test for the American high school players who get to attend the camp in Treviso, Italy. The camp is considered by many to be the best international pre-NBA Draft combine. Many top European pro prospects participate in the event, so the American high school players are generally playing older and more experienced players.
Alkins wasn't the only USA Select member to have a solid showing in the opening game. Class of 2016 guard Frank Jackson, a native of Utah, went for 13 points while Class of 2016 big man and North Carolina native Edrice Adebayo added 12 points.
If Alkins continues to play like this, he could push towards five-star status and eventually become an All-American. He's scoring the ball at a high rate right now and by going 7-for-8 from the field, he was also very efficient to start the camp.
The USA Select Team has a few more games left at camp, as it goes through Monday.