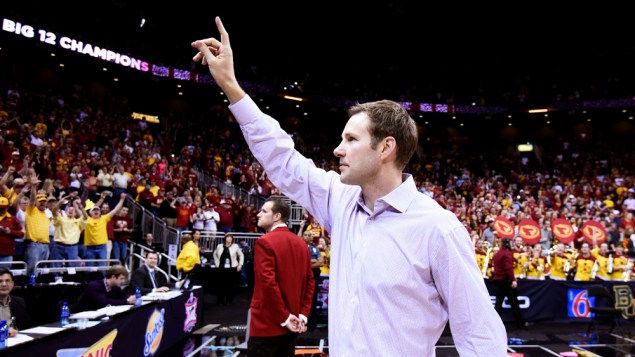 After five seasons in Ames, where the 'Mayor' turned his hometown school back into a college basketball power, Fred Hoiberg is heading to the NBA.
Heading back, that is.
Hoiberg will be the named the next head coach of the Chicago Bulls during a press conference on Tuesday, a team that he played for during his decade-long career in the NBA. The man that made Georges Niang a household name in the Big 12 will now have the chance to coach the likes of Derrick Rose, Jimmy Butler and Joakim Noah.
Personally, I think that he'll thrive. He's a brilliant offensive tactician that runs NBA sets with NBA principles of spacing and isolating mismatches. He played in the NBA. He understands how to manage finicky talent. He's got it all.
But that's for my friends over at PBT to break down for you.
Here, we're looking at what lies ahead for the Cyclones.
As I wrote last week, whoever is tabbed to replace Hoiberg — the people I've talked to tend to believe that assistant coach T.J. Otzelberger is the favorite, but that's not a done deal at this point — will be taking over a team capable of winning the national title in 2015-16. We have them ranked No. 4 in the preseason. They'll almost certainly be a consensus preseason top ten team and they could even end up being the preseason favorite in the Big 12. At the very least, they're the most likely team to end the Kansas run atop the conference.
Georges Niang, Monte' Morris, Naz Long, Abdel Nader, Jameel McKay and Matt Thomas are all back next season. Throw in transfers Hallice Cooke and Deonte Burton — who is eligible in December — and you're looking at a loaded roster.
But Niang, Long, Nader and McKay are all graduating after this season. Morris could end up turning pro. Regardless of who takes over for Hoiberg, they are going to have some work to do restocking the roster next spring. That was something Hoiberg was great at, finding cast-offs from other programs that would be eligible immediately. And as good as he was at finding that talent, he was better at getting those kids to play well for him.
Is that something that his replacement will be able to replicate?
The Cyclone program is rolling right now. If the AD Jamie Pollard can find a coach to continue that momentum, there's no reason that a school with that kind of a fanbase — Hilton Coliseum is as good of a home venue as there is in the country when ISU is rolling — can't be a top 20 stalwart and perennial Big 12 contender.
But a swing-and-a-miss, and it could all unravel quickly.
And I promise you that Iowa State fans don't want to go back to those pre-Hoiberg days.