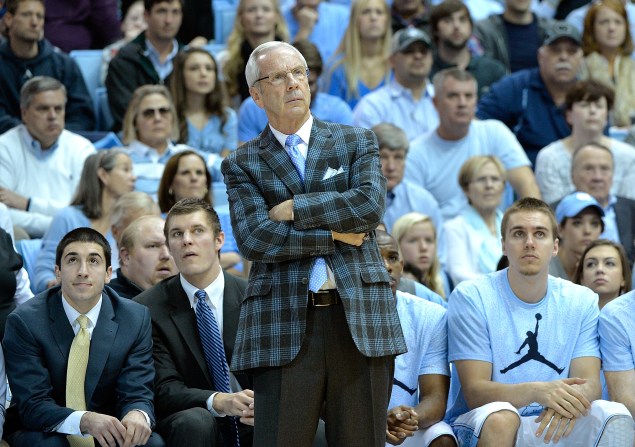 The saga of North Carolina's academic scandal finally took a step towards completion on Friday, as the school announced that it had finally received a Notice of Allegations from the NCAA.
It's been nearly a year since the association announced last June that they would be reopening the investigation into UNC's so-called 'paper classes', and based on the recent evidence that has been unearthed — from Rashad McCants' claims that he and his 2005 national title-winning teammates were steered towards the sham classes to the number of people willing to speak now that the Wainstein Report has been made public — the Tar Heels could be looking at a myriad of potential sanctions.
Scholarships may be pulled. Recruiting sanctions could be implemented. Wins might be vacated. Hell, even that 2005 national title banner could be in jeopardy. No one will know until the school decides to make the Notice of Allegations public, and that has not happened yet.
But the 2005 title isn't the one that has Tar Heel fans concerned. Taking down a banner from a title UNC won when they were eight years old isn't what scared Class of 2015 talents like Brandon Ingram — a North Carolina native, a one-time Tar Heel lean and a soon-to-be Duke Blue Devil — away from Chapel Hill.
It's the threat of the unknown, the fear of what could be coming when the NCAA finally does punish the program.
And if the NCAA is to get this punishment right, than under no circumstances should the Tar Heels be given a 2016 postseason ban.
None.
Because the people that would be bearing the brunt of that bludgeoning would be the athletes themselves. Not the ones that used those paper classes to stay eligible, win a national title and launch their NBA careers — like McCants, Ray Felton, Marvin Williams and Sean May did — but the ones that returned to school this spring, that decided to forgo the chance to turn pro and instead have the Tar Heels sitting at No. 1 in NBCSports.com preseason top 25.
It would be guys like Marcus Paige, a rising senior — and a double-major in journalism and history that will probably be taking my job in a decade and certainly doesn't need to lean on fake classes to thrive in school — that was a ten-year old in Iowa when McCants was (allegedly) cheating his way to a ring.
It would be guys like Brice Johnson — who went from being too skinny to be effective to having arguably the best turnaround jumper in college basketball — and Kennedy Meeks — who has last 70 pounds of fat since he arrived on campus — that would miss out on trying to win that ring. Isaiah Hicks went from being too shy and nervous to live up to the hype of being a top 20 recruit to being North Carolina's best big man in practice more often than not. Nate Britt literally changed shooting hands between his freshman and sophomore seasons to try to get better.
What did they do to deserve having a postseason taken away from them?
Roy Williams' legacy has already been tarnished with this scandal. Fair or not, regardless of what the NCAA is able to make stick, he's always going to be known as the coach that made a mockery of the 'Carolina Way'. Having to take a national title banner down is embarrassing, but losing two Final Fours hasn't slowed John Calipari down yet.
But that's all in the past.
Justin Jackson, Joel Berry, Joel James, Theo Pinson.
Those are the people that would be punished if the NCAA were to ban North Carolina from the 2016 postseason. Those are the people that would be hurt the most if the university, like Syracuse back in February, opted midseason to self-impose a postseason ban.
Now, to be fair, the situation with Syracuse was different.
The Orange weren't going to be competing for a national title like North Carolina will be next season.  They likely would not have even made the NCAA tournament, and implementing a postseason ban last season meant giving up the NIT and being eligible for the NCAA tournament in 2015-16. It accelerated the process without any tangible punishment; one could argue that, for a program like Syracuse, no postseason is less embarrassing than an NIT.
I get it.
But that doesn't make their decision to take away the opportunity to try and play themselves into the NCAA tournament — particularly from a senior like Rakeem Christmas — any less despicable.
And that's not to say that North Carolina shouldn't ever be banned from the postseason.
If the NCAA wants to take away the 2017 ACC and NCAA tournaments from the Tar Heels, have at it. It gives the players currently on the team fair warning. They'd be able to transfer, or turn pro, or even remain a Tar Heel knowing full-well what the future held for them.
That's not the case for next March. Here's the current timeline for the NCAA's investigation: the due date for UNC's response to the Notice of Allegations, barring an extension, is August 22nd, 90 days after it was received. The NCAA would then have 60 days — until October 22nd, assuming there were no extensions granted — to reply. From there, UNC will need to get placed on the docket for the Committee on Infractions.
This is where it gets complicated. Following the COI hearing, the NCAA will usually takes two-to-three months to hand down a ruling. Selection Sunday next season is March 13th. The NCAA is required to five advanced notice for any COI hearing, and with the holidays in November and December, it's unclear when UNC would actually get their date in the NCAA's Kangaroo Court.
But regardless of when that times comes, the Tar Heels will already be in the throes of their season.
They will have already started conference play. They will have already been placed in every Bracketology that gets published. They will have already gotten themselves into a position to earn a No. 1 seed.
Marcus Paige — a senior, a preseason all-american and a potential National Player of the Year — will be weeks away from his best, and final, shot at taking home a national championship.
To take that away from him is considerably more evil than a basketball program enabling bad students that didn't give a damn about their education in the first place.