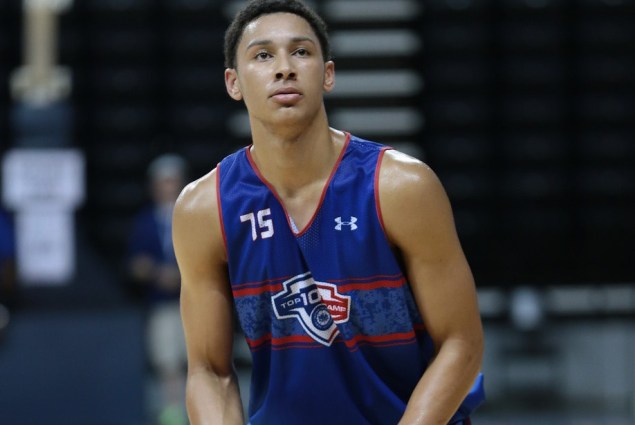 LSU has wasted no time in trying to capitalize on the talent of incoming recruit Ben Simmons, a consensus top two prospect in the Class of 2015.
This passage comes from a release that LSU sent out on Thursday morning:
The LSU Athletics Department announced Wednesday the beginning of its newseason ticket summer sales campaign for the upcoming 2015-16 men's basketball season.

This year's campaign will focus on the arrival of the nation's No. 1 recruit, Ben Simmons, and his chosen jersey number "25."

Through this "25" campaign, fans wishing to become season ticket holders will have the opportunity to lock in their season tickets for the 2015-16 men's basketball season in the Pete Maravich Assembly Center. Season tickets start at just $100.
The release also mentioned that the "25" campaign will featured through "print, billboard, online and social media advertising".
This isn't something that's unique. Of course college teams are going to try to market the amateur student-athletes that they have on their rosters. It would be silly not to. Fans that go to LSU games this season are more likely than not going to catch a glimpse of Simmons, who could end up being a top three pick in the 2016 NBA Draft. When you have that kind of player, even if it is for just one season, the school would be missing out on an opportunity to sell tickets if they didn't try to market him.
It's just rare that you see it this overtly.
LSU's marketing campaign is literally built entirely around trying to get people to spend money to watch Simmons play. And you wonder why there are people that believe college athletes are being exploited?
Simmons is not going to LSU to get an education. He's going there for a year because he can't go to the NBA this year. That scholarship that he's getting? It's completely worthless to him, unless he can somehow find a way to take enough credits to graduate in the seven months that he's on campus. But LSU is going to find a way to squeeze every dime out of those seven months that they can.
It would be like NBC paying me for writing for this website in hitting lessons with Bryce Harper. Sure, that would have quite a bit of value to some people, but what in the hell am I supposed to do with them? Beer league softball means way more to me than it should, but I'm fine being a mediocre hitter as I cash my paycheck.
In today's climate, with the pushback against the "exploitation" of amateur college stars and the fight for student-athlete rights, it's wild that LSU would even think about centering their season-ticket campaign around Simmons. But frankly, this may actually be good for the cause.
Because it doesn't get clearer than this.
LSU is quite literally selling the skills of an 18-year old that's going to get reimbursed with nothing more than a couple of free entry-level classes at a school he may not attend for more than one semester.
And for those seven months, the school can profit off of Simmons — his likeness, his ability, his brand — while Simmons himself cannot.
Does that sound fair?