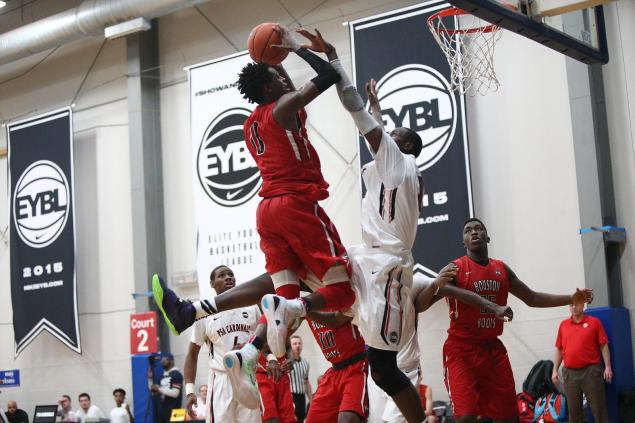 HOUSTON — The third session of the Nike EYBL in Houston is always one of the best weekends for learning about high school basketball prospects in the country. The timing of the weekend — in which no other shoe company events are being held — means players from other leagues will pop up and find an EYBL team for the weekend. Since there have been two previous sessions of EYBL play, every player is pretty much adjusted to the level of play by the third session. It's also the first EYBL session without the college coaches in attendance, so you see which guys are continuing production without them watching.
1. Harry Giles had a tremendous weekend and will push hard for No. 1 in 2016
Harry Giles had a huge weekend in Houston and had three very good games after missing Friday night due to a test he needed to take. The five-star, No. 2 overall player in the class, according to Rivals, is leading the EYBL in rebounding at 10.5 per game and he does a great job quickly getting off the floor to snatch up rebounds. Playing without his knee brace after a torn ACL over a year ago, Giles looked very comfortable this weekend and at 6-foot-10, he has has a chance to be the No. 1 player in the 2016 class. There just aren't many forwards who compete and play intelligent ball the way Giles plays. He could still stand to protect the rim a little bit better, but Giles is even improving his shooting range by hitting some 3-pointers during EYBL play.
2. The intelligence and efficiency of Jayson Tatum is something to admire
Five-star wing Jayson Tatum is a well-known, top-five player in the 2016 class, but it's easy to overlook how efficient he can be sometimes. The St. Louis native does have issues with turnovers from time-to-time (usually trying to force something from being constantly double teamed) but he takes smart shots and gets to the free-throw line far more than anyone else in the league. Through three sessions of EYBL play, Tatum has made 99 free throws and his next closest competitor is at 74. He's second in the league in scoring at 22.2 per game and he does a great job drawing fouls and getting to the line, where he shoots 86 percent. With Tatum struggling from 3-point range this spring — he only attempted one 3-pointer in four games this weekend — he has still played at a very high level. His skill level on the wing is tremendous and Tatum will be very dangerous on the offensive end if he develops his outside shot.
3. Dennis Smith can get it done with any team
Over the weekend, Dennis Smith showed that he can also stand out in the EYBL as he made a weekend appearance with Team Penny. The electric, five-star point guard played more off the ball for the team and averaged 15 points, 3.5 rebounds, 2 assists per game playing only 19.5 minutes per game in four games this weekend. After a first-game adjustment period where Smith had a bit of a tough time getting comfortable with his new teammates, he poured in a big game on Saturday night that included a huge dunk. At the college level and beyond, Smith is probably best suited as a point guard who is a terror on high ball screens, but it was nice to see him play off the ball and do some work as well. Smith also played the passing lanes well and averaged 3 steals per game and guarded some bigger opponents and held his own thanks to his athleticism. He's looking like a legitimate top-five prospect in the Class of 2016 going forward.
4. Freshman Marvin Bagley is generating huge buzz
Class of 2018 power forward Marvin Bagley isn't playing on the 17U stage of the Nike EYBL, but his We All Can Go team is playing in 16U events with other Nike teams. Every time someone would come from the 16U event nearby this weekend, they would leave buzzing about the skilled, left-handed 6-foot-10 power forward, who some believe is the best prospect in the country regardless of class. Of the group of scouts that have seen Bagley, there is a consensus forming that Bagley is at least a top-five prospect in all of high school basketball and the No. 1 player in the 2018 class. The Arizona native already owns multiple high-major scholarship offers from his time in middle school and has a lot of upside going forward. Check out his ridiculous freshman year mixtape if you don't believe me.
5. Texas is gaining a lot of recognition from elite prospects with Shaka Smart at the helm
One of the important things to track on the grassroots circuit in regards to recruiting in the spring is how often head coaches talk to certain players. New Texas head coach Shaka Smart is aggressively pursuing numerous national-level prospects and every time a Texas target speaks to members of the media, they usually mention talking directly to the head coach. Based on athlete response, Smart seems to get through to players more frequently than many other head coaches at that level, who often delegate initial recruiting to an assistant coach. The Texas fan base also seems to be enthusiastic about the arrival of Smart. In speaking with some local Texas media this weekend in Houston, the fan base is happy to have Smart in the picture and there is more of a demand for basketball and basketball recruiting coverage than the end of the Rick Barnes era. We'll have to see if Smart's persistence in calling recruits directly pays off in big commitments, but he seems to be off to a good start at Texas.
6. There are a lot of intriguing 2017 big men
The EYBL features a lot of intriguing big men in the 2017 class and there are many things to like with this group going forward. Miami native Zach Brown is a monster at 7-foot-1 and Georgia native Wendell Carter is skilled and improving rapidly at 6-foot-10. Both Brown and Carter are already established top-ten prospects while others like Illinois native Jeremiah Tilmon, New York native Nick Richards and California native Brandon McCoy all showed flashes of big upside over the weekend. And this group of sophomore big men doesn't even include the No. 1 overall prospect in the class, DeAndre Ayton. Since all of these guys are only sophomores, it will be fun to see them develop and battle other elite big men this summer in the camp setting. Facing older and more experienced big men should be a good indicator of where some of these guys stand going forward.
7. Some 2016 guards are producing at a high level
While the 2016 class has a handful of elite-level guards, many low-end top-150 players are putting up big scoring numbers through the first three sessions of play. Class of 2017 guards Markus Howard and Trae Young have both put up a lot of shots, but also made a lot of shots this spring. Class of 2016 lead guards like New York native Shamorie Ponds and Indiana native C.J. Walker and New Jersey native Myles Powell have also scored at a solid clip as well. Of  the three 2016 guards just mentioned, only Ponds is a top-100 prospect and he comes in at No. 99 in Rivals' national rankings. There are plenty of capable guards in the lower end of the rankings that can hit shots and produce. Can they sustain this kind of production beyond 12 games? The live evaluation period in July will give us that answer.