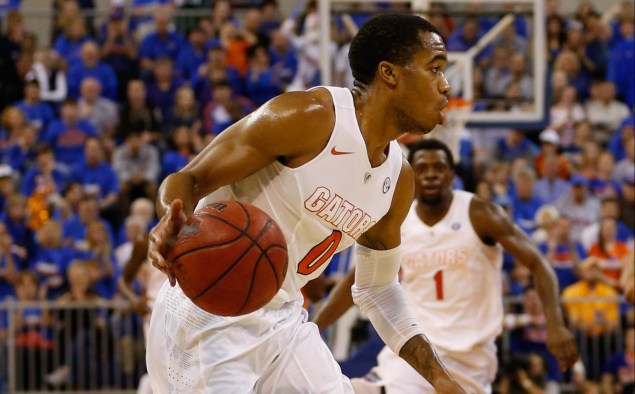 With the early entry process over and with just about every elite recruit having picked a school, we now have a pretty good idea of what college basketball will look like in 2015-16. Over the next three weeks, we'll be taking an early look at next season.
Yesterday, we took a look at eight programs on the rise. Today, we're Looking Forward at some programs that are on the decline:
READ MORE: The NBCSports.com preseason top 25 | Coaches on the hot seat
Florida: There's no way around it: losing Billy Donovan to the NBA is a massive blow for the Florida basketball program. He was one of the best coaches in the college game, and regardless of who the Gators hire to replace him — Mike White? — it's a step backwards. But that's not the only factor at play here. The Gators are coming off of a 16-17 season, losing Michael Frazier II and Chris Walker to the NBA and will enter the 2015-16 season without a season-changing recruit coming into the program. Florida may still be an elite job, but it will be a year or two at the least before they are once again an elite college basketball team again.
VCU: The Rams had one of the roughest offseasons of any team in the country. Not only did they lose Shaka Smart, the guy that turned VCU into a top 25 program, but they also will enter next season without Briante Weber, Treveon Graham, Terry Larrier or either of their elite class of 2015 recruits, Tevin Mack and Kenny Williams. Will Wade, Smart's successor, may be able to keep the Rams at the top of the Atlantic 10 power structure, but he's going to have his work cut out for him.
Wisconsin: Bo Ryan is going to have a bit of a rebuilding job on his hands in 2015-16. After spending the last two seasons as a top ten team led by first round draft picks Frank Kaminsky and Sam Dekker, after making back-to-back Final Fours, the Badgers will be losing five of their seven rotation players from last season. Ryan has never finished worse than fourth in his 14 years as the head coach of the Badgers, and that may not chance this season, but don't be surprised to see Wisconsin fighting for fourth instead of battling for a Big Ten title.
READ MORE: Eleven potential Breakout Stars in 2015-16 | Eight intriguing coaching hires
Harvard: The Crimson have made four straight NCAA tournaments, having won a game in the Big Dance in two of the last three years and earning themselves consideration for the top 25. But that all came with Wesley Saunders and Steve Moundou-Missi on the roster, and even then, Yale would have won the Ivy League title if it wasn't for a collapse in the final game of the regular season at Dartmouth. With Saunders and Moundou-Missi gone, Harvard may still compete for a league title, but they will no longer be in the conversation as a potential top 25 team.
Stanford: Everything looked so perfect for the Cardinal in 2014-15. They were coming off of a trip to the Sweet 16 and had a senior-laden team that looked primed to make a run at Arizona at the top of the Pac-12. But after a disappointing end to the Pac-12 season, Stanford will head into 2015-16 without Chasson Randle, Anthony Brown or Stefan Nastic with a return trip to the NIT being a successful season.
Kansas State: The Wildcats were a mess last season, going from preseason top 25 to a .500 team. They've lost their top three scorers from last season, including Marcus Foster, who transferred out of the program. Nigel Johnson and Jevon Thomas both transferred as well. It's a mess in Manhattan, Kansas.
Illinois: The Illini missed the NCAA tournament for the second straight season, the first time that that has happened in more than two decades. The Illini haven't missed three straight NCAA tournaments since the late '70s. Losing Rayvonte Rice and Ahmad Bradshaw may be addition by subtraction, but this is not a lock NCAA tournament team.
Missouri: Kim Anderson's first season in Columbia could not have gone much worse. Not only did the Tigers go 3-15 in the SEC, but they lost Jonathan Williams III to transfer, missed out on some key recruits and saw assistant coach Tim Fuller leave the program. Things aren't going to get any better in 2015-16, either.