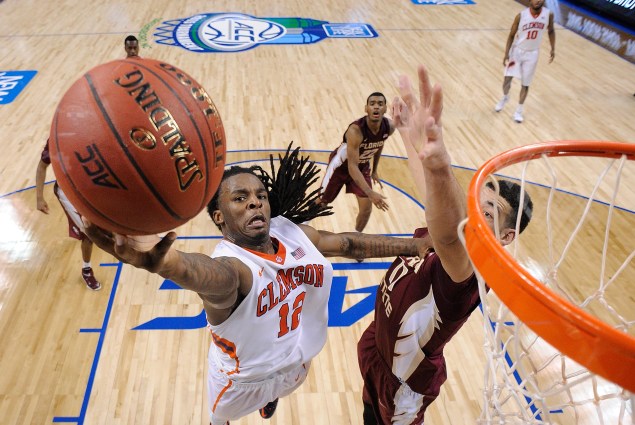 The 2015 NFL Draft finished up over the weekend, but a couple of former college basketball players are still looking for professional football opportunities as unsigned free agents. One of those looking for work is former Clemson point guard Rod Hall, who never played college football, but was prolific as a high school wide receiver.
According to a report from Will Vandervort of The Clemson Insider, Hall is generating interest from multiple NFL teams for future workouts and he's also considering playing college football during his one more year of eligibility.
The Tampa Bay Buccaneers, New Orleans Saints and Baltimore Ravens have all been in touch with Hall regarding opportunities and the Saints and Ravens have set dates in May to work with Hall. Hall hasn't accepted any professional offers yet because he's also still considering playing college football next season.
Hall could use an NCAA rule that allows players who have exhausted four years of eligibility in one sport to get a waiver to play an extra season in another. The move from basketball to football was most notably done by former Duke point guard Greg Paulus when he played football at Syracuse but former Miami (OH) point guard Quinten Rollins used the rule to join the Redhawks' football team and became the MAC's Defensive Player of the Year at cornerback in his one and only season of college football. Rollins was drafted in the second round of the NFL Draft by the Green Bay Packers on Friday night.
The Bucs seemed like the most serious NFL team in pursuit of Hall, but Hall's graduation from Clemson this weekend complicated matters with a potential signing.
Tampa Bay offered him a free agent contract that guaranteed him a practice squad spot, which means he would receive a signing bonus and be paid $1,000 a week during the summer and then additional money each week he stayed on the team through training camp.

They offered him this deal because they knew he needed time to adjust to being a football player, again.

It was too good to be true, except there was one catch. Hall would have to be at camp this coming weekend, when he is supposed to graduate from Clemson. Hall asked could he miss camp so he could graduate because it was important to his family that he walk across the stage and receive his diploma, but the Bucs said, "they could not allow that."
Classy move from the Buccaneers.
Hall also had to turn down a rookie mini-camp with the Ravens because of his graduation, but Baltimore invited him to workout in front of its coaching staff on May 13. New Orleans will work out Hall on May 21.
If Hall can't land a consistent NFL paycheck from those options, he could look to play college football next season. Potentially at SMU, according to Vandervort. The Mustangs' new head coach, Chad Morris, is a former offensive coordinator at Clemson and Hall could receive immediate playing time if he chooses the college route.
Regardless of what happens with Hall at the NFL level, it sounds like he has plenty of football options to choose from for next season.