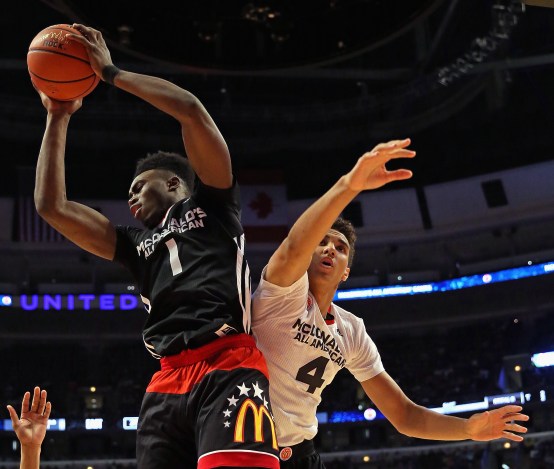 The long and strange recruiting journey of Jaylen Brown is finally over.
A Georgia native and consensus top-five prospect in the Class of 2015, the 6-foot-7 wing ended his recruitment on Friday night by committing to Cal after keeping America waiting in suspense for a few hours on Twitter.
Of Brown's final four schools in Cal, Kentucky, Michigan and North Carolina, this commitment has a big impact on three of the finalists recruiting him.
Sorry, Michigan.
You lost out on Brown, but you return arguably the best senior in college basketball next season in Caris LeVert and point guard Derrick Walton will also be back (and hopefully healthy) for 2015-16. Adding Brown would have surely helped the Wolverines, but with LeVert and Zak Irvin set to return on the wing, Michigan is already looking like a top-15 program heading into next season. They didn't need Brown as badly as the other three programs based on returning personnel.
But how about the turnaround for Cal, and specifically, head coach Cuonzo Martin?
During the 2013-14 season, some Tennessee fans were calling for Martin's head during an up-and-down tenure that ended in a surprise Sweet 16 appearance. Some in the fan base said Martin couldn't recruit at an elite level. Some boosters reportedly cut off Martin from using private planes to go recruiting. Other Volunteer fans drew up an online petition hoping to get former coach Bruce Pearl back at Tennessee that had over 36,000 signatures.
Martin had enough of the drama in Knoxville and bolted for the West Coast right after making the Sweet 16 last spring. Fourteen months later, Martin has landed more top-10 prospects in the Class of 2015 than recruiting juggernauts like Arizona, Duke, Kansas and North Carolina. With Tyrone Wallace, Jordan Mathews and Jabari Bird returning to go along with Brown and local five-star big man Ivan Rabb, suddenly, Cal has a potential Pac-12 title team.
When you also factor in how Cal landed Brown, it's even more impressive. The Golden Bears jumped into the Brown recruitment incredibly late. After taking all five of his official visits, Brown opted to pay his own way for an unofficial visit to Berkeley to see what Martin and his program had to offer. Clearly, Brown liked what he saw and the rest is now history.
Martin has proven his critics in Knoxville wrong by landing blue-chip talent at Cal. Now the pressure comes to win with those players.
For North Carolina, the loss of Brown further illustrates an already bleak recruiting picture of a proud program that can't land blue-chip talent because of the uncertainty surrounding an NCAA investigation. The Tar Heels have arguably the No. 1 team in the country entering the 2015-16 season. They also have a J.P. Tokoto-sized hole on the wing in their starting lineup after his unexpected departure to the 2015 NBA Draft and they just missed on two five-star wings in the past week.
Losing Brandon Ingram, an in-state kid who North Carolina was recruiting before his rise into the top five in his class, certainly hurt. Missing on Brown means the recruiting future for North Carolina is even more murky.
And North Carolina can't whiff on the Class of 2016, either.
The top Class of 2016 power forward (Harry Giles) and point guard (Dennis Smith) both reside in North Carolina and top-ten forward Edrice "Bam" Adebayo is also an in-state product. If this current Class of 2015 recruiting trend continues, the Tar Heels are going to miss on blue-chip talent in their own state for two consecutive seasons because of the concerns of potential NCAA sanctions. Things aren't getting any better in Chapel Hill any time soon.
And when is the last time Kentucky was involved with so many five-star prospects in the spring, only to miss out on all of them?
At the McDonald's All-American game in late March, there were eight uncommitted prospects playing in the game. Kentucky was still a finalist for seven of the eight uncommitted players when they spoke to NBCSports.com during the event.
They ended up with none of the eight uncommitted McDonald's All-Americans.
Now head coach John Calipari is scrambling for spring recruiting scraps.
Just this past week, Calipari landed a junior college shooter in Mychal Mulder and tried to sway a Class of 2015 three-star forward, Shaun Kirk, from signing with N.C. State. Calipari missed on Kirk like he did the Burger Boys and it leaves Kentucky with some question marks entering next season.
The Wildcats still have a tremendous class coming in, highlighted by arguably the best Class of 2015 player (Skal Labissiere) and the best point guard in the class (Isaiah Briscoe). Mulder and four-star wing Charles Matthews are not scrubs either. Kentucky's four-man 2015 class would still be the envy of most college basketball programs in America.
But after gaming the one-and-done system for so long — culminating in four McDonald's All-Americans joining a roster that had nine total McDonald's All-Americans on last season's team that started 38-0 — can Calipari ever reach the recruiting levels that he was at again?
I'm not saying Calipari can't reach more Final Fours or win more titles at Kentucky, but no college basketball team has ever gone 38-0 and even that team fell short of the title game. Kentucky has made the Final Four in four of the past five seasons — largely with one-and-done players. This 2015 recruiting class is underwhelming compared to the past few classes, especially after seven Wildcats left early for the 2015 NBA Draft. The 2015-16 roster now also seems underwhelming by Kentucky's recent standards and only one title came from those recent Wildcat juggernauts.
It's not as if Kentucky wasn't trying to get more blue-chip guys to come aboard for the 2015-16 campaign before sending them on their way to shake Adam Silver's hand on draft night. They missed on seven All-Americans who they were in on as of late March.
Jaylen Brown even called Kentucky the, "best basketball program in the country," to reporters at the McDonald's All-American media day and decided not to go there.
Suddenly, Calipari and Kentucky's system of landing the best one-and-done players has taken a serious hit. The Wildcats have been beaten by Duke at their own game for two consecutive recruiting classes and the Blue Devils were the ones hoisting hardware in Indianapolis a few weeks ago.
Are these spring recruiting misses merely an outlier, or the end of an era of recruiting dominance for Calipari and Kentucky? Did the platoon system Calipari used during the 2014-15 season mean that elite players in the Class of 2015 didn't want to sacrifice minutes and shots to be apart of Kentucky's program?
We'll have to wait and see how things play out from here in regards to elite recruiting, but Jaylen Brown's commitment definitely shook up college basketball at a time when the sport is usually dormant.