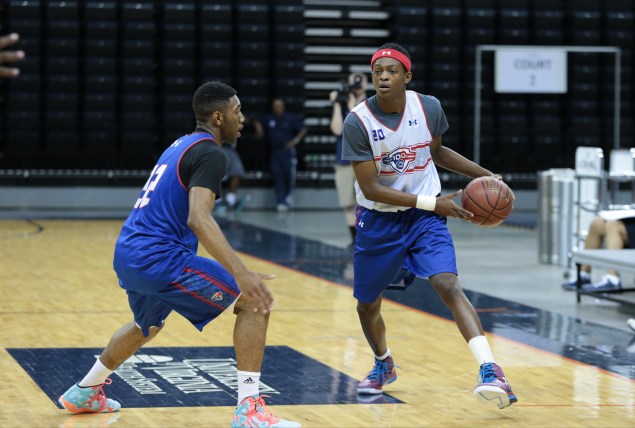 LEXINGTON — When the spring grassroots basketball season gets in the full swing of things around every April, the nation's best high school basketball players are almost always asked to compare their games to another player.
This answer will generally vary by player and position, but for the most part, whoever the NBA's alpha dogs are for that season are typically the most popular answers. When Derrick Rose became the league's youngest MVP ever in 2011, every high school kid wanted to be the next D Rose — even if they weren't necessarily point guards. As Kevin Durant took the MVP away from LeBron James last season, every big man, wing and player in between admired the former Texas star's ability to score from all over the floor.
The common answer heard this spring seems to be Russell Westbrook.
Because of Westbrook's penchant for filling up box scores and his intense demeanor on the floor, high school basketball players seem to be gravitating towards the former UCLA star's game. But very few players look at Westbrook from the defensive end of things first and that's what makes Class of 2016 guard De'Aaron Fox stand out among the pack.
Fox is already known as a five-star prospect, and Rivals rates him as the No. 10 overall player in the class, but the 6-foot-3 Fox might be the best two-way guard in his class. With a tremendous intensity on the defensive end, Fox stands out among his peers because he never seems to take a possession off on either end of the floor.
Not surprisingly, Westbrook is mentioned by Fox when he brings up his approach to the game.
"I pride myself on defense. Not too many young people do that," Fox said to NBCSports.com "If you know me, Russell Westbrook is my favorite player and he does the same thing. So right now that's what I'm trying to do."
At the college level, Fox also admires Kentucky guard Tyler Ulis, for many of the same reasons. Ulis is small in stature, but he plays tight defense against any opponent he's facing.
"I watch Tyler Ulis. He's the type of guard that can [defend] any type of guard, bigger guard or smaller guard, and it really wasn't a mismatch. I pride myself off defense and I go after any challenge that I can."
With the defensive portion of his game covered, Fox is also focusing on becoming more of a point guard and a leader as he transitions to the next level. With an ability to play either guard spot, Fox wants to become a player who gets others more involved this spring.
"[My] focus [is] on playing the point guard position, getting my teammates involved and when I need to score I can do it," Fox said. "Being a double-double type of guy. And just making my teammates better.
"I think I'm making my team better and right now I just want to keep winning. If I don't play well and we win, I'm okay with that."
Fox mentioned to NBCSports.com that Arizona, Baylor, Kansas, Kansas State, LSU, Texas and Texas A&M are currently recruiting him the hardest. The main factor that will play into Fox's decision will be his relationship with the head coach and the style of play within the program he chooses.
"The style of play and really the head coaching relationship. You could be recruited by the assistant coach but ultimately the head coach is making the decisions," Fox said. "So I think, especially me being a point guard, me having a great relationship with the head coach is important.
"Their trust in me. If the coach doesn't trust you, there's not too much you can do. If the coach trusts you, you have a lot of leeway, you can get away with a couple things — a little turnover here or there — and they put the ball in your hands."
Taking a page out of many of the top Class of 2015 players, Fox is currently taking his time in the recruiting process and he hasn't cut a list. With so many good options to choose from, Fox isn't in any hurry to make a decision.
"At first I had it to where I was going to commit by the end of the summer but now I'll probably let that go and I'm just taking my time right now," Fox said.