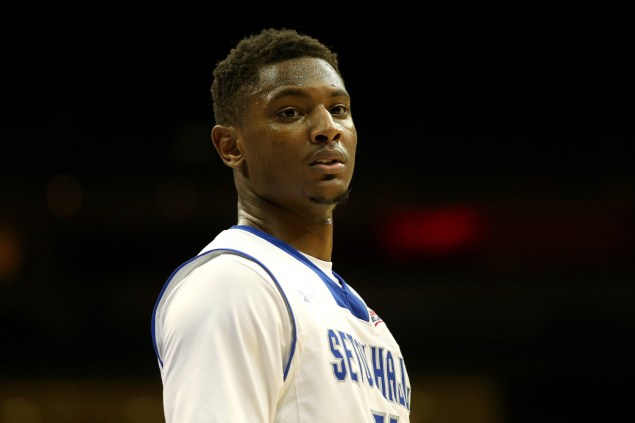 UConn landed a huge graduate transfer on Friday as they received a commitment from Seton Hall guard Sterling Gibbs. The transfer of Gibbs was first reported by Andrew Slater of 247 Sports.
Although Slater reported that Gibbs has committed to UConn, multiple reports state that Gibbs has yet to decide.
As a graduate transfer, Gibbs is available to play immediately next season and should be a huge boost to head coach Kevin Ollie's back court.
The 6-foot-2 Gibbs was an impact player in the Big East for the Pirates this past season as a redshirt junior, averaging 16.3 points, 3.8 assists and 2.1 rebounds per game. Gibbs also shot 43 percent from both the field and the 3-point line and shot 70 percent from the free-throw line.
After starting his career at Texas, Gibbs became an impact scorer at Seton Hall and registered a 40-point game against Illinois State early in the 2014-15 season.
With the loss of senior Ryan Boatright, Gibbs should be able to step in and replace some of his production for the Huskies. UConn also returns Rodney Purvis, Daniel Hamilton, Omar Calhoun and Sam Cassell Jr. and should have a pretty deep back court if everyone on the roster is healthy for the 2015-16 season. Five-star freshman guard Jalen Adams is also signed for next season for the Huskies.
It's also worth noting that Sterling's younger brother, Temple, is a four-star guard in the Class of 2016. He's currently regarded as the No. 66 prospect in the 2016 class, according to Rivals, although UConn hasn't been involved in his recruitment much to this point.