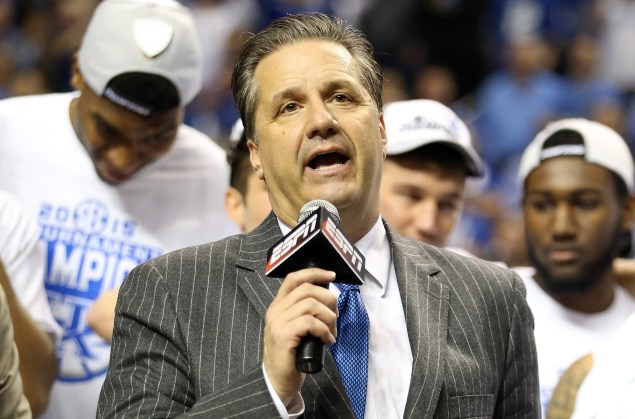 Former Kentucky star Derek Anderson had some harsh words for John Calipari earlier this week when he joined The Drew Deener Show on 680 AM in Louisville.
"Last year, when we went to the Final Four with (Julius) Randle and them, it was because of pure talent," Anderson told Deener. "The reason we lost? Coaching. Why did Louisville beat [UConn] by 30? They pressured their guards. We let the kid Shabazz Napier – he walked the ball up and just shot in our face the whole night. I'm like, did you not watch the tape of Louisville beating them? They pressured these guys."
"If Coach Cal wanted to keep these kids and develop them, he should tell them that," Anderson added. "He's just running them in and out. It's not him, it's not just him, it's the parents. If my son is supposed to go second round, 'Son, you need to stay in school, get your degree in case something happens, and also finish the job. Make sure you make these people know you can actually play.' They're just running them out of here. Like Dakari Johnson. I hope he makes it, but he's a 7-footer who can't jump. What's he going to do with no degree when he's done in two years?"
Yeah, there's a lot there.
Too bad the majority of it is wrong.
Let's start with the idea that Cal is just "running them out of here". Of course he is! That's the core philosophy that he's built this program around! Players First, remember? The premise of his recruiting pitch — the biggest reason that he's able to bring in all of these elite kids, the reason that he's able to stock a roster with nine McDonald's All-Americans — is that he's going to get his guys to the NBA as quickly as possible. The reason an elite recruit goes to Kentucky is to put themselves in a position to start making money as a professional basketball player as quickly as possible.
Anderson can rip Dakari Johnson's decision to go pro if he wants, but the bottom line is that Johnson is, as Anderson says, a seven-footer that can't jump. He's not Willie Cauley-Stein, a guy that oozes potential and only needed the opportunity to prove what he was capable of doing. Johnson is who he is, and given how limited the timeframe for earning money as a professional athlete is, there's nothing wrong with deciding to start earning a year or two early.
And remember, Desagana Diop was in the league for 12 seasons and made nearly $50 million in his career without ever averaging more than 2.9 points in a season. You can learn to make a post move in the NBA. You can't be taught to be seven feet tall.
Oh, and while we're on the subject, not everyone ends up being a one-and-done player at Kentucky. Alex Poythress is about to enter his senior season. Cauley-Stein spent three years on campus. Johnson and the Harrison twins were in school a year longer than many expected when they entered the program. Terrence Jones returned for his sophomore season.
Let's move on to Anderson's other criticism, the one where he says Cal was outcoached in the national title game. That may actually be fair; there's a reason Kevin Ollie's name always seems to pop-up when an NBA job opens up. He's the real deal, and he coached a No. 7 seed that had basically three players on it to a national title.
But Cal did a damn good job in the tournament as well. Kentucky was a No. 8 seed, remember? They beat then-undefeated Wichita State, Louisville, Michigan and Wisconsin to reach the title game. You can't criticize the job that Cal did getting that Kentucky team to the final game of the 2013-14 season.
If Anderson really wanted to criticize him, he could have ripped Cal's performance during the 2013-14 regular season. That would be fair. Kentucky had no business being a No. 8 seed with the amount of talent they had on that roster, as Cal couldn't get the talent on that team to buy-in the way that he did this past season … or in 2012 … or in 2010.
Three out of four ain't bad.
And Cal did manage to get that team to the Final Four anyway, it just took them longer to gel than anyone expected.
So what is he so upset about?
"Every time at the end of the game, end of the season, we don't win a championship, I say 'are you happy now? Since you want to give Coach all this praise?'" Anderson said. "I love Coach, I think he's a great guy, he helps people out, he brings us back, he's treated me with nothing but respect, but I'm talking about coaching. I'm not talking about personal, I'm talking about coaching. If you're going to coach these kids, let's make them play the game the right way."
Play the right way?
You mean convince a bunch of future NBA Draft picks to sacrifice their minutes, their shots and their numbers for the greater good and to buy-in on the defensive end of the floor in order to become one of the most dominant college basketball teams of the last two decades?
Because that's what Cal did.
And to me, that's playing the right way. Reaching four Final Fours and winning a national title in your first six years at a school? To me, that's coaching the right way.
But what do I know.
I never played at Kentucky.