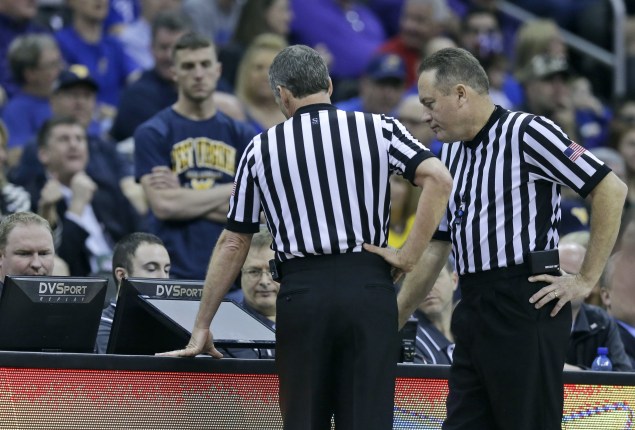 On Monday night, news broke that college basketball could very likely be going to a 30 second shot clock, which is a move most in the game believe should be made. 
But that's far from the only issue that our great sport dealt with this past season. We asked each of our writers what rule they would change if they were the college basketball commissioner for a day. Feel free to share your ideas in the comments:
Terrence Payne: Let's stop secondary defenders from being able to draw charges. For instance, an offensive player beats his man to the basket only to have another defender slide in at the last possible moment, leaving that offensive player no chance to counter … that's fair? So, bail out the primary defender for getting beat and punish the offensive player for getting to the rim?
Here's an example of Butler's Andrew Chrabascz from back in November at the Battle 4 Atlantis. He beats Mikael Hopkins off the dribble and actually eludes Paul White, the secondary defender, but is still whistled for a charge. And here's Louisville forward Montrezl Harrell against Indiana in December. He's already in an upward motion before Indiana's secondary defender is even set. Call? Charge.
How do either of these calls make sense?
Force the primary defender to play defense. Let him beat his man to the spot and draw a charge. I'm tired of living in a world where this is a charge.
(Editor's Note: These two were by far the worst charge calls of the season.)
Raphielle Johnson: How many times this season did we watch officials huddle around a monitor for far too long, only to fail to come to a conclusion regarding a controversial call? Or in some cases, still manage to get the call wrong? Let's limit reviews to 60 seconds with an actual clock and buzzer (if the arena wants to use the scoreboard clock, even better). If you can't figure it out by then, just stick with the original call. Or, better yet, let's have a designated replay official. Just as people don't tune in to watch some officials grandstand during games, they also don't tune in to see guys huddled around a monitor.
Timeouts need to be cut down for sure, but this monitor issue is something else I'd like to see the rules committee address. And if crews consistently go past the 60-second mark, give them a warning and then fine them. Nothing helps a message hit home like losing a little money.
Scott Phillips: I'd really like to see college basketball examine the possibility of moving from two 20-minute halves to four 10-minute quarters.
There are multiple reasons for doing this.
For one, it matches what most of basketball is already doing. The NBA, FIBA and most high school basketball federations already go with the four-quarter system. Going back to Raphielle talking about there being too many timeouts, it also creates a natural break for one of the many television timeouts we see during college basketball games. It would also add some additional possessions at the end of quarters as teams try to get up additional shots to beat the clock. Maybe college basketball coaches would finally use the concept of the 2-for-1 at the end of a quarter?
But the biggest reason I'd like to see the four-quarter system is a reduction in the number of free throws we see start to build up so early during the current system of 20-minute halves. I'm tired of watching teams get in the bonus and double bonus with over 10 minutes left in a half and I'm sure much of America feels the same way. Nobody wants to watch a free-throw fest based on touch fouls. The quarter system could reduce the number of bonus and double-bonus free throws by implementing a system that resets after each quarter. Each quarter would be a fresh start for team fouls.
The FIBA and NBA model calls for bonus free throws starting on the fifth foul of each quarter, but we might have to tweak that for the one-and-one rule a little bit.
I haven't done the proper math to equate the 20-minute bonus system to 10 minutes (and how it would be most fair to the current state of play) but it wouldn't penalize teams in foul trouble so early in a long half. Free throws wouldn't kill the flow of the game with so much time left on the clock. We'd get to see more basketball being played.
Rob Dauster: I'd love to see the NCAA not only adopt, but truly enforce the freedom of movement rules that were put into place during the 2013-14 season. Coaches have realized, and started taking advantage of, the fact that they know officials are not going to call fouls on every possession. They teach their defenses to grab, to hold, to use hand-checks and armbars. The NBA went through this phase about 10 years ago, and after instituting a few changes to how defense is allowed to be played, we've reached a point where the game at the professional level is as good as it has ever been. In fact, the NBA's popularity is one of the reasons that the college basketball regular season has taken a hit. What would you rather watch: two teams beat each other up while grinding out a game that doesn't hit the 60-point plateau until free throws in the final seconds, or Steph Curry and Klay Thompson?