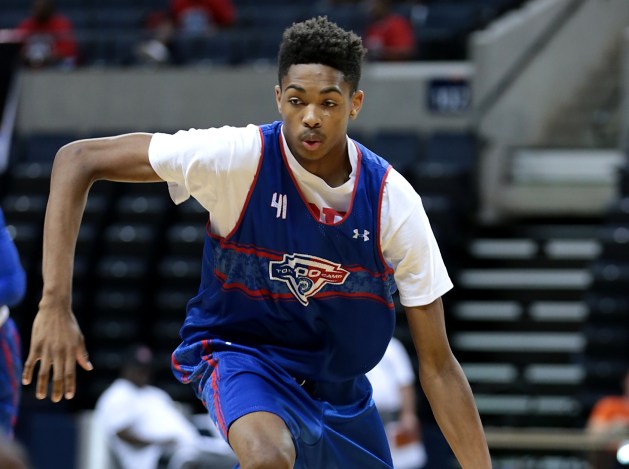 On Monday night, Duke head coach Mike Krzyzewski added yet another elite recruit to his 2015-16 roster, as five-star wing Brandon Ingram committed to play for the Blue Devils.
Ingram's tools are absurd. He's a 6-foot-9 wing with length, athleticism and the ability to handle the ball and shoot on the perimeter. And while he's always had loads of potential, this spring he's seemingly put it all together, which is why he's shot up from a top 30ish recruit to one of the top five prospects in the class.
It also means that for the second straight year, Duke has landed one of the nation's best recruiting classes, a roster full of potential one-and-done talents that will make them one of the youngest — and best — teams in the country. Duke won the 2015 National Title on the back of a trio of freshmen, shipped them off to the NBA Draft's lottery and have now reloaded by adding a pair of five-star recruits in April.
It's a positively Calipari-an way of building a roster, and it's the opposite of what Duke stood for as recently as their title in 2010. Duke was always the program that kept their best players in school for three and four years. And as of today, they're currently beating Kentucky at their own game.
But that's not the most interesting story line to come out of Ingram's commitment.
That would be just how much the NCAA's investigation into academic impropriety at North Carolina, and the sanctions that are looming over the head of the program, are currently affecting the Tar Heels.
UNC is currently the NBCSports.com preseason No. 1 team in the country. The Tar Heels bring back essentially everyone from last year's team. Marcus Paige will be healthy, Brice Johnson and Kennedy Meeks will once again be roaming the paint, and the play of Joel Berry, Justin Jackson and Theo Pinson will only get better after a full year on campus. But their 2015 recruiting class consists of a three-star forward whose father played quarterback on the football team, and it's not for a lack of effort.
North Carolina went after Ingram hard, even before he turned into a top five prospect. They likely would have gotten him as well, as Ingram told reporters "I think I would have" committed to UNC had they not been facing this investigation.
The questions about what might happen at UNC – and what penalties it might face – proved too difficult for Williams and his staff to overcome during Ingram's recruitment. [Brandon's father] Donald Ingram said the cloud of the NCAA investigation "played a big factor" in his son's decision to turn down UNC.

"We wanted to see something on paper," Donald Ingram said. "We wanted to hear it on television. We wanted to know that they're not going to fall into the same situation like Jim Boeheim with Syracuse. So you don't want to go into a (situation) that's already hot. And it played a factor in it."
The Syracuse situation that he is referring to is the eight-year investigation that was concluded earlier this year. The result? The university self-imposed a postseason ban for the 2014-15 season and will spend the next decade trying to work through a myriad of recruiting restrictions and a loss of 12 scholarships over a four-year period.
And the violations committed by Syracuse weren't as bad as what North Carolina has been accused of doing, meaning that the Tar Heels could end up getting the book thrown at them.
Or maybe not. As Jerry Tarkanian once said, "the NCAA is so mad at Kentucky it's going to give Cleveland State two more years of probation." Would the NCAA really drop the hammer on one of their flagship basketball programs?
At this point, we don't know, which is why UNC is getting killed on the recruiting trail. In a moment of honesty, some of the coaching staffs recruiting against the Tar Heels will admit that they don't think UNC's basketball program will get hit too hard, but that's not the information that they're going to be feeding recruits they're trying to keep out of Chapel Hill.
And frankly, they don't even need to.
Tyus Jones and Sam Dekker became potential lottery picks because of their play in the tournament. Grayson Allen went from a bench-warmer to a guy that had to announce he's not declaring for the NBA Draft because of two games in the Final Four.
Brandon Ingram saw this.
He knows what a strong performance in the NCAA tournament can do to draft position.
If going to North Carolina means that there is a chance he won't get that opportunity, is it really surprising that he passed on the Tar Heels?
Wouldn't you?