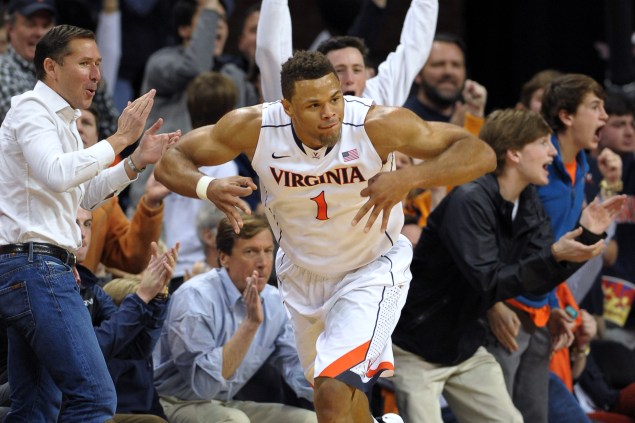 The deadline for underclassmen to enter the NBA Draft came and went at midnight on Sunday night, meaning that we now know what rosters will more or less look like for the 2015-16 season.
Here are the six biggest winners from this year's draft deadline:
READ MORE: Complete Early Entry List | 2015-16 Preseason Top 25
1. Virginia: The Cavaliers are currently the No. 6 team in the NBCSports.com preseason top 25, but they had a chance to be No. 1 overall had they returned Justin Anderson to school. Anderson declared for the NBA Draft earlier this month, and it was probably the right decision. He's coming off of a broken finger and an appendectomy and still managed to put together the kind of season that will make him an ideal 3-and-D role player at the next level. There's a good chance he ends up being a first round pick. But without him, Virginia will be missing their best shooter and best defender. There's a reason they went from being arguably Kentucky's biggest challenger to fizzing out in the Round of 32 after Anderson got injured this season.
2. Murray State: Losing Cameron Payne is such a brutal blow for the Racers. Payne went from being under-recruited to a potential first round pick in two seasons in Murray. The Racers would have been a trendy top 25 pick if he had returned, as they won 25 straight games this past season before falling to Belmont in the OVC title game. Without Payne, they may not even be the favorite to win their conference.
3. N.C. State: The Wolfpack suffered a major blow when Trevor Lacey announced that he would be entering his name into the NBA Draft. Lacey is a second round pick at best, but had he decided to return to school, he would have been N.C. State's go-to guy and their likely leading scorer for the second straight season. Without him — and without Ralston Turner — there are going to be a lot of question marks on the wing for the Wolfpack. Had he returned, Mark Gottfried could have been looking at being a top 20 team entering the season.
RELATED: NBA Draft early entry deadline's six biggest winners
4. Arkansas: The Razorbacks run as a top 25 team in the SEC will end at one season as Mike Anderson's two best players are heading to the professional ranks. SEC Player of the Year Bobby Portis heading to the NBA wasn't all that surprising, but losing Michael Qualls — who was terrific in the NCAA tournament — hurt as well.
5. LSU: It wasn't all that surprising, but sophomores Jordan Mickey and Jarell Martin are both heading to the NBA. LSU brings in a loaded recruiting class — headlined by one of the nation's top two recruits in Ben Simmons — and they'll have one of the most talented perimeters in the country. But with Mickey and Martin back in the fold, they also would have had one of the best front courts.
6. UNLV: The Runnin' Rebels are still going to have plenty of talent on their roster entering the 2015-16 season, but they're still going to end up thinking about what could have been. Rashad Vaughn, a top ten recruit in the Class of 2014, entered the draft after an underwhelming season that ended in injury. A projected second round pick, his loss might actually hurt more than Christian Wood's, a 6-foot-11 big man that is projected to get picked late in the first round. UNLV has depth along their front line next season. They don't have as much in their back court.
7. Eastern Washington: Put Eastern Washington in the same boat as Murray State. After having some surprising success as a team this past season, EWU will head into rebuilding mode after star guard Tyler Harvey decided to enter the NBA Draft.
OTHER LOSERS
Florida: The Gators have a lot of work to do, and losing Michael Frazier II and Chris Walker certainly won't help all that much.
Louisville: Rick Pitino was able to reload this offseason, but there will be a period of adjustment after the Cardinals watched Montrezl Harrell and Terry Rozier declare for the NBA Draft.
Kentucky: It wasn't all that surprising, but Kentucky lost seven players from their 2014-15 team to the NBA Draft. None were all that surprising, however.