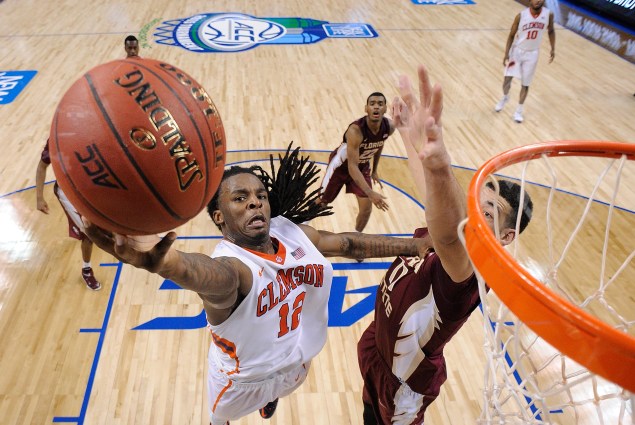 Over the past few weeks we've seen NFL teams begin to inquire about college basketball players who might find a fit playing professional football.
Penn State forward Ross Travis and Old Dominion forward Richard Ross have both had some NFL interest already while former Miami (OH) point guard Quinten Rollins transitioned to football at the school last season and is now flying up NFL draft boards. Kansas State senior forward Thomas Gipson also worked out for the Green Bay Packers earlier this month.
Now it appears Clemson senior point guard Rod Hall is getting some NFL interest of his own. According to a report from Mandrallius Robinson of Greenville Online, Hall is getting interest from 10 NFL teams who have contacted Clemson assistant coach Steve Smith. A workout for those teams has been scheduled for this week.
"If I get a chance, I think I definitely can do this," Hall said to Robinson. "I just have to get back into that football groove."
The 6-foot-1, 205-pound Hall didn't play football in college, but he was All-State in football at Lucy C. Laney High School in Augusta, Georgia. Hall played wide receiver in high school and scored 13 touchdowns while totaling 1,200 receiving yards. Robinson reports that he'll work out at wide receiver and defensive back for NFL teams.
It's hard to say how Hall will look in workouts — and what NFL teams will think of him — but it's a unique opportunity for him before he decides the next step in his professional life.