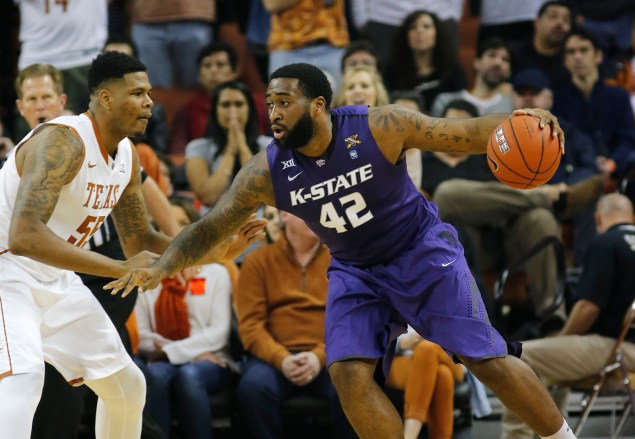 College basketball players becoming productive NFL players is not a new trend of any kind, but pro football teams are always looking for talented athletes who could join their ranks. With the success of former college hoopers like Jimmy Graham, Antonio Gates and Julius Thomas — to name some — pro football teams are looking more and more to college basketball players who could make the transition to football.
Last week, the Green Bay Packers had a workout with former Kansas State forward Thomas Gipson. The 6-foot-7 Gipson has never played organized football, but he intrigued the Packers enough during his senior season for the team to ask for a work out, according to Kellis Robinett of the Wichita Eagle.
Gipson got an unexpected call during spring break that the Packers wanted to get him on the field to work with one of their scouts. The 265-pound Gipson figured he would give football a shot.
After going through a work out with the Packers. Gipson posted some videos to his Twitter and also thanked the Packers for the opportunity on Instagram.
https://instagram.com/p/1Q8ASQxz4a/
The Packers seem to be one of the most aggressive NFL teams in terms of working with former college basketball players. Quarterback Aaron Rodgers took an interest in former Kansas forward Tarik Black last season before Black opted to go to the NBA.
It's hard to say what the future holds for Gipson, in terms of football, but basketball isn't a bad fallback option if things on the gridiron don't work out.