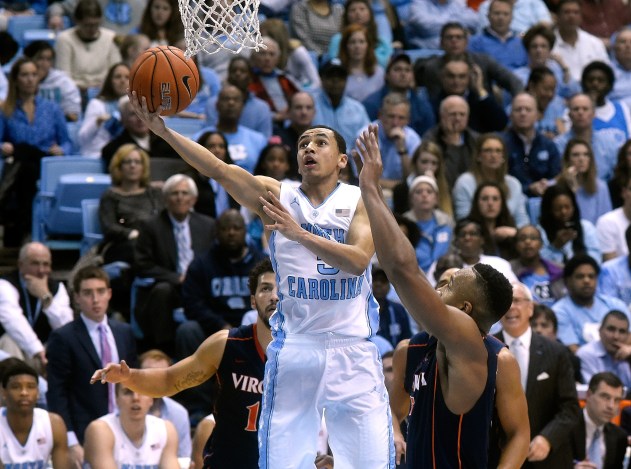 On Saturday afternoon, Marcus Paige's father confirmed to Bret Strelow of the Fayetteville Observer that his son will be back for his senior season at North Carolina.
Marcus Paige talked matter of factly after Sweet 16 loss about coming back. For double-checking purposes, his dad said today he is returning

— Bret Strelow (@bretstrelow) April 11, 2015
Following a Sweet 16 loss to Wisconsin in the NCAA tournament, Paige left little doubt as to where he would be for next season.
"I really enjoy being here and being a part of this program," Paige said at the time. "And now I only have one more chance, so I'm going to try to use that as fuel. I can't tell you how much it means to be a part of this place and I only get one more year and it goes so fast.
"I'm going to give everything I have, every single day this offseason to be the best player I can be to help my team. And I hope that's kind of infectious and contagious in the locker room."
Paige averaged 14.1 points per game, leading the Tar Heels in scoring for the second season in a row. The return of Paige makes North Carolina arguably the top team in the country, given the players it brings back. Kennedy Meeks, Brice Johnson and Justin Jackson. Earlier this week, starting guard J.P. Tokoto entered the 2015 NBA Draft. That production is expected to be replaced by Jackson and fellow sophomore Theo Pinson, who suffered a foot injury in January.
The Tar Heels are ranked as the top team in College Basketball Talk's Way-Too-Early Preseason ranking.