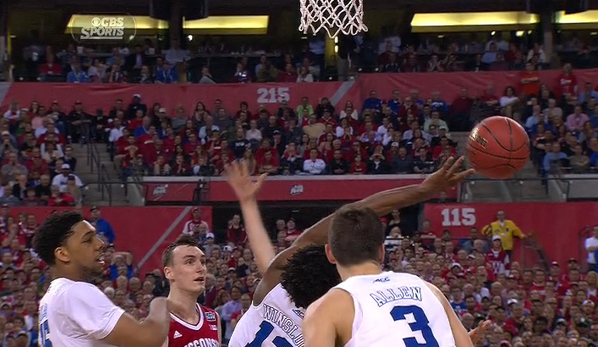 In No. 1 Duke's 68-63 win over No. 1 Wisconsin Monday night to claim the program's fifth national title, there was an out of bounds call in the final minute that certainly sparked conversation.
With Duke leading by five the officials went to the monitor to review who touched the basketball last before it headed out of bounds on the baseline under the Wisconsin basket. Despite seeing multiple angles the officials ruled that the ball should be awarded to Duke, despite many believing that Duke's Justise Winslow was the last player to touch the ball.
The final angle shown during the replay process made it appear that Winslow was the last to touch the ball, and according to the NCAA director of officiating John Adams it was an angle that the game officials did not have the luxury of seeing. However on Wednesday Dan Gavitt, the vice president of the men's basketball championship, contradicted Adams' statement and told ESPN.com that the officials did see the replay angle in question.
"Unfortunately, John misspoke yesterday," Gavitt told ESPN.com after his OTL appearance. "The officials did indeed have the camera angle that was shown on the CBS broadcast. It was the last angle they did see. They likely did not stay long enough with a review to see that angle magnified. But they made their determination based on the two-minute review and the camera angle that was shown on CBS and with that determined that there wasn't indisputable evidence to overturn the call. You need to have indisputable evidence by rule to change the call. The facts are they did have the angle the viewers had."
Well, regardless of what either Adams or Gavitt has to say about the call in question there's no turning back now. As for Adams, Monday's game was his last as the NCAA's director of officiating and the governing body is evaluating possible replacements. According to the ESPN report the NCAA is two weeks away from making a decision.
Hopefully the next person in charge can get college basketball even closer to having a uniform standard for its officials that doesn't seem to fluctuate from one conference to another. Some leagues have banded together for scheduling alliances when it comes to their game officials in recent years with this goal in mind. Hopefully it has a positive impact on the game in years to come.