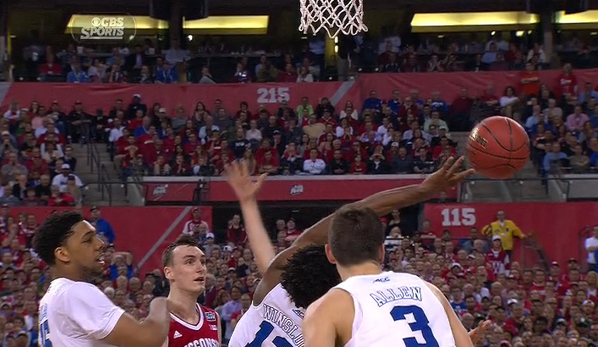 [soundcloud url="https://api.soundcloud.com/tracks/199700936″%5D
Duke won it's fifth national championship on Monday night with a 68-63 win over Wisconsin.
With less than minutes in the game and Duke up 63-58. Wisconsin's Bronson Koenig and Duke's Justise Winslow were fighting for a rebound after several taps, the ball went out of bounds and the officials awarded the ball to Duke. Officials were able to go to the monitor to review the play, though, did not reverse the call.
The national audience watching on CBS Sports saw the angle in the photo above, which drew outrage when the call was overruled. The Wisconsin State Journal snapped this photo as well:
However, officials never saw that angle, NCAA Head of Officials John Adams told SiriusXM College Sports on Tuesday.
All four of our officials were involved in the review. We never saw on our monitors what everyone saw at home. If you can believe that.

I saw [the angle] after they had left the monitor, and actually thought about [it]. Is it in my prerogative to get up, run over to the table, buzz the buzzer, and tell them to come back and look? And that's how critical I thought the play was and concluded that this is a job for the guys on the floor, and I've never done this before, why would I do it tonight and perhaps change the balance of the game?

They had already left. It'll be one of the things we follow up on. We had been told time and time again that, 'Nobody at home will see anything you didn't see' and I'll tell you that's not what happened last night. And that's not an excuse that's just laying it out there for you.
Tyus Jones, the Most Outstanding Player, drilled a 3-pointer on the ensuing possession.
While the explanation won't make anyone in Wisconsin feel better about the outcome, the Badgers did have controversial calls fall in their favor during this NCAA tournament run, most notably the field goal Nigel Hayes converted on in the national semifinal against Kentucky. Replay shows that should have been a shot clock violation.
Here's the video that was shown on CBS: