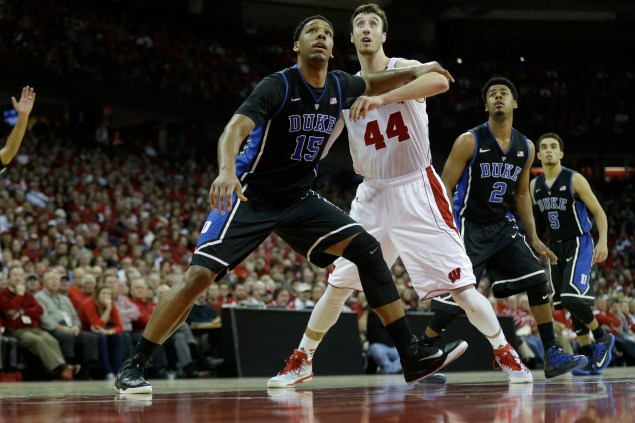 WHEN: Monday, 9:18 p.m. ET (CBS)
MAJOR STORY LINES: There are so many subplots here that it's almost too much for me to handle, so I'm hitting you with the bullet points:
Frank Kaminsky vs. Jahlil Okafor: The National Player of the Year against the runner-up for National Player of the Year.
A rematch of one of the best games of the season, when Duke went into Madison and knocked off the Badgers back in December.
Bo Ryan chasing his first career national title while Mike Krzyzewski is trying to win No. 5, which would put him in second place all-time.
Duke's eight McDonald's all-americans vs. Wisconsin's zero, and the convenience in ignoring just how good Sam Dekker was coming out of high school.
But here's the one that gets me: We didn't get the Kentucky-Duke final that everyone was kinda, sorta, we-weren't-but-we-really-were rooting for, but we did get a battle between two of the nation's top four teams, both of whom happen to be peaking at the right time. And in any other tournament, if we knew we were going to end up with these two teams, we would be thrilled.
KEY STATS: Since the NCAA tournament kicked off, Duke has gone from a team that was not very good on the defensive end of the floor and turned into one of the nation's best defensive teams. Seriously. They were 57th in KenPom's adjusted defensive efficiency ratings prior to the tournament. They're now 12th. That's what happens when you don't allow more than 0.90 points per possession in any game against some very, very good offenses.
Wisconsin? They're the nation's best offense, having just torn up Kentucky's vaunted defense. The Badgers have five guys on the floor at all times that can score in the post and shoot from the perimeter, and three of them happen to be future NBA players. The Blue Devils are going to have their work cut out for them trying to slow down this Wisconsin attack.
KEY PLAYERS: As good as Frank Kaminsky and Jahlil Okafor have been this season, it's been Sam Dekker and Justise Winslow that have starred during the NCAA tournament. Dekker is finally healthy after dealing with an ankle injury early in the season, while Winslow is finally healthy after his issues with his ribs and his shoulder. He's to hoping they matchup on one another (more on that in a second).
POINT SPREAD: Wisconsin (-1)
THREE THINGS TO WATCH FOR:
1. Who guards who?: We know that Frank Kaminsky will be going up against Jahlil Okafor, and that's going to be awesome. But what are the rest of the matchups going to be? Quinn Cook has been Duke's best perimeter player the last two months, but will they use him on Sam Dekker? Is Nigel Hayes quick enough to cover Justise Winslow, or will Dekker be put on Winslow and Hayes on Matt Jones? Duke is going to end up doing a lot of switching regardless of who they start out guarding, but how those matchups play out will matter.
2. Can Wisconsin take advantage of the mismatches?: The biggest reason Duke beat Wisconsin earlier this year is that they shot 65 percent from the floor, but it also helped that the Badgers were unable to take advantage of the size mismatches that they have, and that's before you consider that Duke loves switching all exchanges defensively. They're going to be able to overpower Duke inside. Can they capitalize on it?
3. Okafor vs. Kaminsky: How many times do I need to tell you this is going to be awesome?
PREDICTION: Wisconsin cuts down the nets.