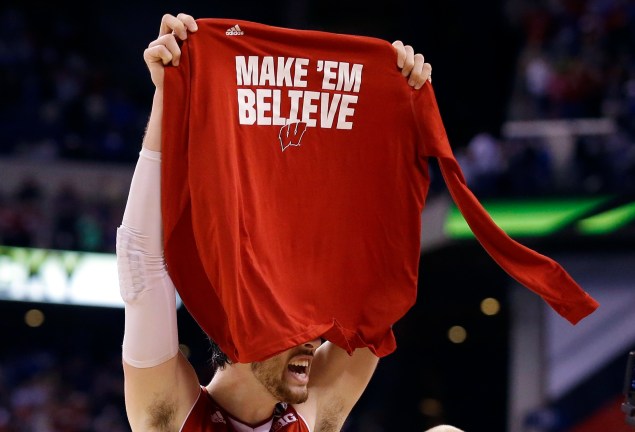 INDIANAPOLIS — The battle of No. 1 seeds for the national championship between Duke and Wisconsin on Monday night will be an extreme contrast of how to build a program and achieve success.
Duke and head coach Mike Krzyzewski have adapted to the one-and-done landscape of elite recruiting, landing future pros who can impact the game from the moment they step on campus. Wisconsin and head coach Bo Ryan aren't immune to recruiting top-100 players, but they're more about the multi-year development model where experienced upperclassmen and a tried-and-true culture are a major part of the program's success.
Case in point: the two best players during the 2014-15 college basketball season will match up with the national championship on the line. Duke freshman center Jahlil Okafor was the No. 1 prospect in his class since early in high school and he's a serious threat to be the No. 1 pick in the 2015 NBA Draft. Wisconsin senior center Frank Kaminsky is a four-year player who hardly made an impact his first two years in school before a breakout junior campaign led to an even better senior season.
Wisconsin's staff realizes they aren't going to be in the mix for many McDonald's All-Americans, and immediate future pros, so they've built a foundation around the "Wisconsin Way."
"We've had one McDonald's All-American (Brian Butch) in 14 years and he redshirted his freshman year," Wisconsin assistant coach Greg Gard said.
The Badgers have given regular minutes to underclassmen like Devin Harris, and more recently Josh Gasser and Sam Dekker, but those guys had to buy into a team concept that featured veterans who were well established in the program.
Sophomore guard Bronson Koenig was actually offered a scholarship by Duke, as well as North Carolina and Kansas, but chose to attend Wisconsin and stay close to home at a program that could still give him tools to build with. The teachings he received from his older teammates and coaches helped him step into his starting role when senior guard Traevon Jackson went down with a broken foot earlier in the season.
"I think it helped me a lot coming in as a freshman. The upperclassmen did a really good job of putting their trust in me, teaching me how to play under Coach Ryan, and [playing] in the Wisconsin system," Koenig said. "I'm really thankful for guys like Josh Gasser and Traevon for just helping me out along the way to help me develop into the player that I am now."
Buying into the team concept isn't for every blue-chip recruit, which is what makes Wisconsin's recruitment of players like Koenig and junior forward Sam Dekker so unique. Dekker was a five-star prospect and didn't really become a go-to scorer for Wisconsin until the later part of this season.
Dekker has had to play second fiddle to older players and wait his turn even though he had the talent coming out of high school to probably play at most of the traditional blueblood programs in college basketball.
"Coach Ryan, the staff, the program, the team is everything I wanted in a program," Dekker said. "They're always going to give you a chance to be apart of the NCAA tournament, no matter who the players are on the court.
"Coach Ryan, this legacy he's building, this tradition of excellence that he's made at Wisconsin, that's something that you can't deny, can't ignore. One thing I wanted to learn is to become more disciplined and he's done that and more for me. I'm very privileged to be apart of this program."
You could say that Wisconsin got lucky landing top-100 in-state players like Koenig and Dekker who had the patience to play a small role in a larger picture, but Wisconsin's staff tries to identify high-character individuals who are competitive enough to thrive in the (usually) upperclassmen-driven program. Recruiting rankings and star ratings don't matter; it's all about the mentality and competitiveness of the player.
"There's no magic wand or pixie dust that we sprinkle on our guys, but in terms of showing them the process and what the plan is — here's how we do things, day-by-day, year-by-year, how we work in the offseason," Gard said.
"It's the culture and the philosophy and the understanding of the program to build that."
Others like Kaminsky and Gasser have outplayed their standing coming out of high school. Although both seniors had other high-major scholarship offers, they weren't coveted players attracting throngs of head coaches at the highest level. Because Wisconsin's development model puts players at all positions through the same skill work, they evolve as players over their careers in Madison.
Kaminsky, who became National Player of the Year after playing only 271 total minutes his freshman season, is the poster child of what a Wisconsin player can become with patience and tremendous work ethic.
"In our offense, you go inside, outside for guys his size. He's made the most of being in a program where those are points of emphasis. Develop your total game in different drills." Ryan said of Kaminsky. "It's not just like guards can only do this, bigs can only do this. So Frank took advantage of every learning opportunity he had and he just kept making himself better. And he's going to be even better next year and the year after."
As Ryan has evolved as a coach — and as a teacher of the game — moving from his traditional swing offense to a more free-flowing offense, his team has become a national powerhouse thanks to a perfect mix of skilled players at all five positions. Wisconsin is one of the few teams in the country who can throw five players on the floor with legitimate size for their positions and all five players can knock down perimeter shots or handle the ball in the open floor.
It's created a team full of mismatch nightmares and it's a big reason why the Badgers ended Kentucky's perfect season en route to a shot at the title.
"It doesn't matter where you were when you were 16 or 17 years old, it matters where you are now," Gasser said. "We have proven that we are a pretty good team. We play well together, and we are well coached, so that is all that really matters."