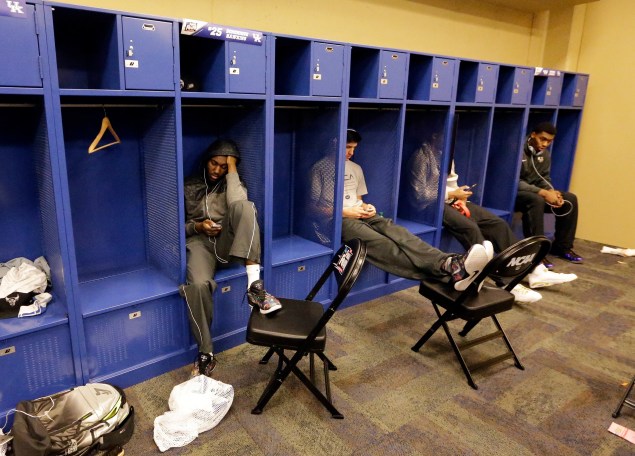 INDIANAPOLIS — Andrew Harrison's postgame comments regarding Frank Kaminsky, while simultaneously being incredibly stupid and not at all a big deal, may end up going down in history as the moment that saved this Kentucky team's legacy.
Since that press conference, twitter and sports talk radio and the blogs have all been dominated with #hottake after #hottake regarding those now infamous three words, meaning that we avoided having to listen to the "experts" that swoop in every March explain how this is yet another example of John Calipari's lack of coaching prowess. Or how Kentucky's loss somehow damages what they did accomplish this season. Or that this year was a waste without a Wildcat title.
Because all of that nonsense is ridiculous.
You want to know why Kentucky lost to the Badgers on Saturday night, two wins short of the first 40-0 season in the history of the sport?
It's because an extremely good Wisconsin team that matches up perfectly with the Wildcats played a damn-near perfect game. It's because the Badgers were able to keep the ball from getting pounded into Karl Anthony-Towns in the final seven or eight minutes, turning Kentucky's offense into isolations for the Harrison twins. It's because Sam Dekker and Bronson Koenig made a number of big shots. It's because Kaminsky is special. It's because Wisconsin gave up offensive rebounds on just four of Kentucky's 58 possessions on Saturday night and just a single offensive rebound to someone not named Towns.
In fact, I'd go as far as to say that, given how well the Badgers played, the fact that Kentucky had control of the game with five minutes left and possession with a chance to tie the game with 30 seconds on the clock as evidence of just how good this team truly is.
They're one of the best teams that we've ever seen in college basketball, and a loss in the Final Four doesn't change that. And while it's not an ideal list to be on, UK will forever be linked to 1999 Duke and 1991 UNLV and the like as the best teams not to win a national title.
That should be disappointing. They should be crushed. This team never said it publicly, but it's impossible for them not to know they were three days away from making history. That's hard for anyone to take. I've been in a lot of losing locker rooms, and that was one of the toughest to deal with. Tyler Ulis was slumped in his locker, hood up as tears glistened in the corner of his eye. Devin Booker couldn't take his eyes off the floor. Aaron Harrison spoke so softly it was barely audible. One player, whose name I'll keep to myself, was sobbing inconsolably.
Those tears should tell you just how competitive this team was, and it should let you know just how much perfection meant to them.
"It's like a movie," Willie Cauley-Stein said. "The main character dies, and you're like, 'What?! Why did the main character die?' And you're just, like, super-hurt over the main character dying or the good guy, the guy you never suspect is going to die ends up dying. No cliffhangers, no nothing. That's the way it feels."
"I wanted to hold a trophy off the bus, off the plane, and just hear everybody go crazy," he added. "Because Lord knows there would be 10,000 people at our airport. They're still going to be there, but it's just going to be a different feeling."
But while Kentucky didn't get to their 40-0 goal and didn't get their national title, what they did do was something that we've never seen before. They won the first 38 games of the season, a number that may never be matched. They rolled through the SEC, winning the regular season and tournament titles in impressive fashion. And they did it all while pooling together eight McDonalds All-Americans and as many as nine future NBA players who didn't care about minutes or shots as much as they did wins.
And perhaps most impressive of all? They made the big, bad Kentucky Wildcats and their overlord, John Calipari, quite likable.
This was a special team that gave us one hell of a ride all season long.
And anyone that tries to spin this differently is doing them a disservice.