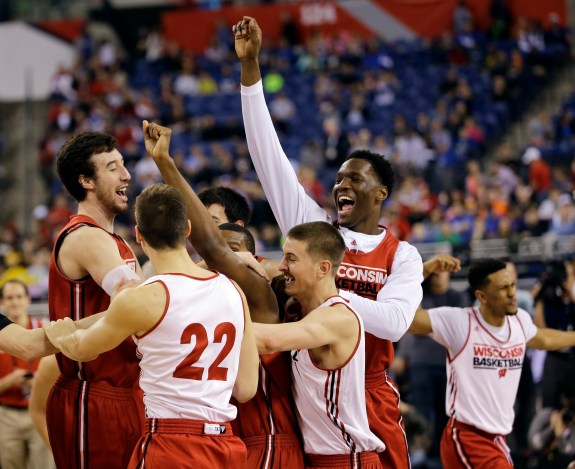 INDIANAPOLIS — Wisconsin joins Duke and Kentucky as No. 1 seeds in the 2015 Final Four, but there is minimal talk of the future surrounding the Badgers. Senior center Frank Kaminsky and junior forward Sam Dekker get asked their fair share of NBA-related questions, but they pale in comparison to the pro questions that the Wildcats and Blue Devils receive.
Wisconsin has a roster full of players they've developed over multiple seasons; Kentucky and Duke are filled with McDonald's All-Americans and guys who litter NBA mock drafts as seniors in high school. While one reporter asked Duke's Jahlil Okafor for an autograph on Friday; reporters in the Wisconsin locker room were asking about the team's intense love of playing video games.
Instead of getting caught up in the talk of the future, the Badgers are remaining as loose as any NCAA tournament team in recent memory. Their basketball futures can wait; they'd rather focus on the present. And the present includes being college kids who fixate on spirited games of FIFA and Super Smash Brothers, messing with NCAA stenographers and partaking in a half-court shooting contest during a public Final Four practice.
Dekker was asked about the NBA on Friday and gave about as nonchalant an answer as you'll ever hear about potentially making millions of dollars and living out a lifelong dream. He's happy being a college kid and being with his teammates.
"I've been asked about the NBA for two years, I'm kind of used to the question. I know when the time comes, I'll make the right decision on what to do," Dekker said. "It doesn't really bother me because I've had a lot of weird questions since I've started being interviewed. I don't get too caught up in that stuff. It's fine. You guys (the media) can ask whatever you want to ask and I'm not going to get mad at you."
Wisconsin prefers to laugh things off and throw around jokes during press conferences. Sophomore forward Nigel Hayes has become a star on the microphone during the NCAA tournament for his propensity to challenge press-conference stenographers with large words.
Hayes, and his affinity for wordplay, was on display again on Friday when he threw out a joke to the media that he hadn't used on his head coach, Bo Ryan, in practice yet. Hayes even gave a hard sell on his silly joke like a veteran stand-up comic working a crowd after a joke.
"Here it goes: why can you not hear a pterodactyl go to the bathroom? Because the 'p' is silent," Hayes said to some laughter from reporters. "It's okay — you guys can laugh. We're all just having a good time here."
Let the good times roll for Wisconsin.
The pressure of the Final Four doesn't seem to be fazing the Badgers, in part because they've already been through the throng of media at last year's Final Four in Dallas. They also faced the season-long pressure of being one of the best teams in the country and the best team in the Big Ten. Wisconsin went from a team that nobody expected to become a powerhouse in a two-year span. Now they're media-savvy veterans who choose to have fun with reporters rather than answer the same questions with the same answers.
"We're pretty much used to all of the media and all of the distractions now," sophomore guard Bronson Koenig said. "I  think this year we're more well-equipped handling everything and we're more focused on the task at hand."
Laughter and joking aside, Wisconsin gets very serious when it comes to basketball. Kentucky faces the immense pressure of being the heavy favorite and a potential perfect season looms in the balance. The Badgers realize most of the external pressure will fall on the Wildcats, so they're taking the spotlight in stride.
Even though Wisconsin's tournament seeding is on-par with the Wildcats, they'll worry about potential legacies after the games have played out.
As Ryan and his starting five left the NCAA media gathering in the bowels of Lucas Oil Stadium on Friday, all five (oversized) Wisconsin players fit onto one extended golf cart while Ryan rode with a Wisconsin staffer and the driver of the second cart.
The gesture wasn't symbolic of a distaste for Ryan from the players, but rather, the group's preference to hang out and joke around together as much as possible.
Hayes chanted, "we're rolling deep!" as the cart zipped off to the Wisconsin locker room.
Wisconsin is focused on staying together, and playing together, for as long as they can. They're enjoying the moment while it lasts. The entire Badger roster showed up to see Kaminsky accept his Player of the Year awards on Friday — something one NCAA spokesman said had never been done before.
Rolling deep into the NCAA tournament for the second consecutive year has Wisconsin confident that they can take down Kentucky and make it to Monday night.
If all goes according to plan, Wisconsin's whole roster can celebrate one more trophy together.