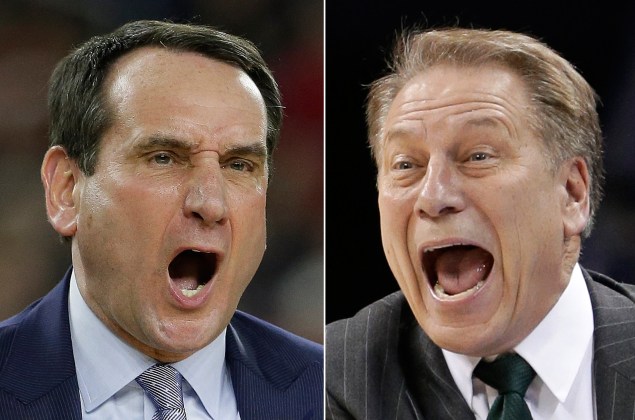 WHEN: Saturday, 6:09 p.m. ET (TBS)
MAJOR STORY LINES: I feel pretty comfortable saying Tom Izzo is the greatest coach in NCAA tournament history. Whether that's accurate or not, who knows, but keep this in mind: Izzo is the first coach to lead three teams seeded No. 5 or below to the Final Four, which is a record, and he's also won the most games — 12 — in tournament history as a lower-seeded team.
But Mike Krzyzewski might actually be the best coach in college basketball history this side of John Wooden. This is his 12th Final Four, and if he happens to win the national title, it will be his fifth. That would put him second all-time … to Wooden. Coaching matchups don't get much better than this.
KEY STATS: Michigan State is one of the nation's worst free throw shooting teams, and if there is anything that you cannot afford to do against a team like Duke, it's leave points at the free throw line.
KEY PLAYERS: Jahlil Okafor is the star for the Blue Devils, but Justise Winslow has been Duke's best player this postseason. His ability to defend the power forward spot has been a major factor in the defensive resurgence for the Blue Devils over the last two weeks, and it will be critically important for Duke on Saturday night. Winslow will likely be locking horns with Michigan State's Branden Dawson all night, and when Dawson plays well, the Spartans are a different team.
POINT SPREAD: Duke (-5)
THREE THINGS TO WATCH FOR:
1. Quinn Cook vs. Travis Trice: Trice has been terrific during the NCAA tournament, but Cook has embraced the role of being Duke's defensive stopper in the back court. He's played a major role in Duke slowing down Jerian Grant, Marcus Paige, Kevin Pangos and Delon Wright, and he'll likely be tasked with the doing the same on Saturday.
2. What does Michigan State do against Jahlil Okafor?: Okafor is going to be a problem for the Spartans. What do they do to try and slow him down? Play fast to tire him out? Go small to draw him away from the rim? Double teams? It will be interesting to see how that plays out.
3. Track meet!: Don't be surprised when this ends up being a fast-paced, back-and-forth game. Michigan State has always loved to get out in transition, even more so now that Tum Tum Nairn is playing major minutes. And Duke is Duke. If they can beat you down the floor, they will.
CBT PREDICTION: Duke