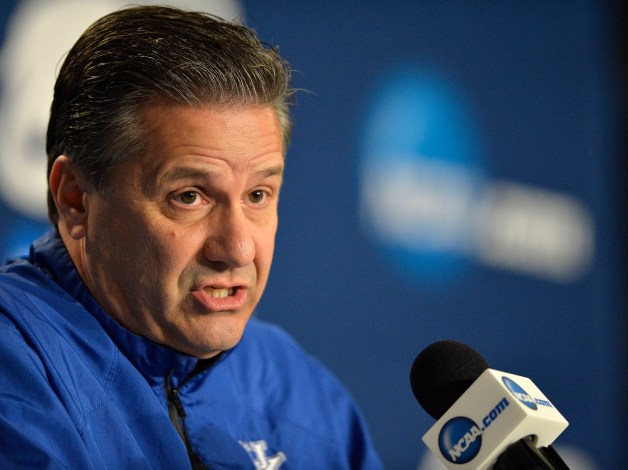 Last weekend Kentucky head coach John Calipari joined an esteemed group of coaches who have managed (at the very least) to lead their schools to four Final Four appearances within a five-year span.
Below are the other coaches in the history of the event who have made four Final Four appearances within a five-year period or better, with John Wooden and Mike Krzyzewski. Also listed are coaches who have managed to lead their programs to three Final Four appearances within a four-year period or three consecutive appearances (which includes Michigan State's Tom Izzo).
Coaches who have reached four Final Fours in five seasons:
– John Wooden (UCLA) 1964-65, 67-75
In regards to championships won Wooden is the gold standard in the sport, and after dealing some complaints about the lack of a Final Four appearance he led the Bruins to 11 Final Fours in a 12-year span. UCLA won ten national titles during that period, with 1966 (didn't reach the NCAA tournament) and 1974 (national semifinal loss to NC State) being the exceptions. That NC State loss was also the lone defeat UCLA suffered in the Final Four during this run.
– Mike Krzyzewski (Duke) 1986, 88-92, 94
Coach K is in Indianapolis this weekend, and his first great run at Duke began with the 1986 team reaching the national title game where they lost to Louisville. Two years later Duke began a streak of five consecutive Final Four appearances. Duke lost in the national semifinals in both 1988 and 1989 before losing to UNLV in the 1990 title game, and they would break through with national titles in 1991 and 1992. Add in a title game appearance in 1994, and Duke reached the final four in seven of nine years.
– John Calipari (Kentucky) 2011-12, 2014-15
In Calipari's three prior Final Four appearances with the Kentucky program, two of the runs were ended by UConn. The Huskies eliminated UK in the national semifinals in 2011, and they beat them in the 2014 national title game as well. Kentucky won it all in 2012, beating Kansas in the title game.
Coaches who have led their program to three Final Four appearances in a four-year period (or three straight):
– Harold Olsen (Ohio State) 1944-46
These were the early days of the NCAA tournament, when there was just two regions (East and West). Olsen's Buckeyes lost in the regional final, which would be today's national semifinals, in each of their three appearances and won the first-ever third-place game in 1946.
– Adolph Rupp (Kentucky) 1948-49, 51
Rupp's Wildcats won the national title in each of their three Final Four appearances during this stretch, becoming the second program (Oklahoma A&M) to win back-to-back titles in 1948 and 1949.
– Harry Combes (Illinois) 1949, 51-52
The Fighting Illini had an up-close view of two of those Kentucky teams, falling to the Wildcats in the regional final in both 1949 and 1951. Kentucky wasn't around to serve as a roadblock in 1952, but Illinois ended up losing to eventual runner-up St. John's that season.
– Phil Woolpert (San Francisco) 1955-57
Woolpert's national title teams were led by the great Bill Russell, with the Dons beating La Salle in the 1955 national title game and Iowa the following season. USF's run came to an end in the 1957 national semifinals, where they lost to a Kansas team led by Wilt Chamberlain.
– Ed Jucker (Cincinnati) 1961-63
Jucker led the Bearcats to consecutive national titles in 1961 and 1962, his first two seasons as head coach. George Smith led Cincinnati to the Final Four in both 1959 and 1960. After winning the two national titles, Cincinnati lost to Loyola (IL) in the 1963 national title game.
– Vic Bubas (Duke) 1963-64, 66
Some may not realize just how good the Duke basketball program has been throughout the history of the game, and not just when Mike Krzyzewski has been in charge. Bubas led the Blue Devils to three Final Four appearances in a four-year period, falling in the semis in both 1963 and 1966 and in the national title game in 1964 to UCLA.
– Dean Smith (North Carolina) 1967-69
Smith was one of many whose runs to prominence wound up being overshadowed by UCLA during the 1960's. His Tar Heels made three consecutive Final Four appearances from 1967-69, with their loss to the Bruins in 1968 coming in between national semifinal losses to Dayton (1967) and Purdue (1969).
– Guy V. Lewis (Houston) 1982-84
Lewis led the Cougars to their first Final Four appearance in 1982, losing to North Carolina in the national semifinals, and in each of the following two years Houston reached the title game. UH lost both of those contests, falling to NC State in a thriller in 1983 and to Georgetown in 1984.
– John Thompson (Georgetown) 1982, 84-85
During the infancy of the Big East it was Georgetown that made the biggest splash nationally, reaching the national title game in 1982 and winning it all two seasons later. Thompson's quest for a repeat in 1985 fell short however, as fellow Big East member Villanova beat the Hoyas in the title game.
– Tom Izzo (Michigan State) 1999-2001
Of the four coaches at this year's Final Four, Izzo is the one with the most recent run of three consecutive appearances as his occurred from 1999 to 2001. The 2000 national title was sandwiched in between national semifinal losses in 1999 (Duke) and 2001 (Arizona).
– Ben Howland (UCLA) 2006-08
The new head coach at Mississippi State managed to lead UCLA to three straight Final Four appearances but none resulted in a national title. After falling to Florida in 2006 (title game) and 2007 (national semifinals), UCLA lost to Memphis in the 2008 national semifinals.
Information from Sports-reference.com was used in the compilation of this post.