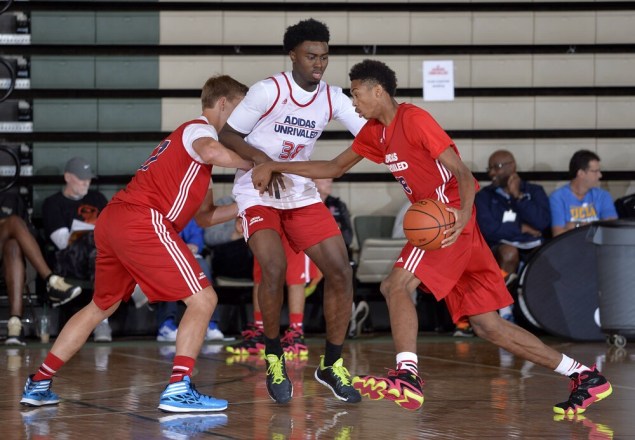 CHICAGO — The McDonald's All-American game tips tonight at the United Center in Chicago and the game is especially intriguing this season because eight of the game's 24 participants remain uncommitted in the recruiting process.
CBT caught up with all eight of those uncommitted players this week to see where they stand as we near the April Signing Period.
You can view the complete rosters for the 2015 McDonald's All-American game here.
EAST TEAM
Jaylen Brown, 6-foot-7 small forward, Marietta, GA
As the No. 2 overall player in the class, Brown has the most attention on him this week and he's still considering a number of different options. Brown has taken all five official visits to Kansas, Kentucky, UCLA, North Carolina and Michigan (in that order) and Cal recently received a surprise unofficial visit. Local schools like Georgia and Georgia Tech have also done their best to stay in the picture for Brown.
While Brown called Kentucky the "best basketball program in the country," to reporters on Tuesday, he's open to all of the schools on his list and is looking for more than just a school that churns out NBA players.
"It's not about going to a certain school to be a pro. If I'm doing what I'm supposed to do, I think I can get to the NBA," Brown said. "With my abilities, I just have to stay focused. A pro is a pro; it doesn't matter what school [you attend]."
Cheick Diallo, 6-foot-9 forward, Centereach, NY
One of the best defenders in the 2015 class, Diallo is the No. 7 player in Rivals' rankings and has taken official visits to all five schools on his final list.
"I have my top five: Kentucky, St. John's, Iowa State, Pitt and Kansas," Diallo told NBCSports.com. "I'm just waiting to announce in April. Sometime before or after the Jordan game."
St. John's remains in the picture for Diallo, even with the hiring of new head coach Chris Mullin.
Thomas Bryant, 6-foot-10 forward, Huntington, WV
One of the better post players this week has been Bryant, who is down to four schools in the recruiting process. Bryant is looking at Syracuse, Indiana, Kentucky and Missouri. He's finished all of his visits and is looking over a few factors in his recruitment.
"I'm looking at which guys that are still there, know the system," Bryant said. "Coaches that really want me to be there as a focal point of their offensive system. I'm just taking it day-by-day. I just want to know that if I'm going to school, I'm going to get better there."
There have been two schools on the final list of four that have been in touch the most in recent weeks.
"Two schools that have been really in touch with me are Indiana and Missouri," Bryant said.
Since Syracuse was given sanctions by the NCAA, Bryant said he hasn't heard from the coaches, but they've been in contact with his mother.
"I haven't heard from them that much. They talk to my mom, I know that. I haven't heard from them." Bryant said of the Orange.
Bryant is planning on making a decision in the near future with the help of his mother.
"We're trying to make a decision soon, but it just depends. When me and my mom talk it over and everything. When we both know, and I know, that's when everyone else will know," Bryant said.
WEST TEAM
Brandon Ingram, 6-foot-8 small forward, Kinston, NC
The fastest-rising prospect this week has been North Carolina native and small forward Brandon Ingram. The stellar play of Ingram has impressed a number of people in attendance at practices and he's still weighing his options.
"I'm considering all six schools on my list right now. Kansas, Kentucky, UCLA, North Carolina, Duke and N.C. State," Ingram said. "I took all my visits. I'll take a couple of in-state visits when I get back home. And now I have a couple of in-homes."
Many believe that Ingram could announce soon and he wants to figure things out before the end of the month.
"I want to announce by the end of this month," Ingram said. "Of course, I want to get some more answers out of the way before I make my decision."
Some of those answers might be about the situation at North Carolina, where the school is under scrutiny for an academic scandal that rocked college basketball this season. Ingram is only worried about his dialogue with the North Carolina coaching staff concerning the matter.
"The dialogue has been pretty good — and private — right now with [assistant] coach Steve Robinson and coach Roy Williams. I'm not listening to any outsiders or anything," Ingram said. "I trust Roy Williams and I trust Steve Robinson, so [the recruitment] has been pretty good."
Malik Newman, 6-foot-3 guard, Jackson, MS
Malik Newman has been quieter than most about the recruiting process but schools like Kansas, Kentucky, LSU,  N.C. State and Ole Miss remain in the picture. New Mississippi State head coach Ben Howland also visited with Newman right after taking the job and made a hard push for Newman to stay close to home.
"He came to the house. He did a tremendous job with [Russell] Westbrook. I think he can do a great job with me," Newman said of Howland. "He's one of those coaches; he's demanding. He expects a lot out of you. I think he gets a lot out of his players."
Even with many of the nation's best making a late charge, Newman is taking his time with his decision.
"I think everyone is on an even platform," Newman said of the recruiting process. "I'm trying to set up a few visits and once I set those up, [everyone] will know all of the schools that I'm looking at."
Among the factors that will help Newman decide include finding a coach who has taken players to the next level.
"[I'm looking for] a program that has some players around there. A coach that has coached players of my caliber. Just a program that can help me accomplish my dreams; hopefully in a year or so," Newman said.
Ivan Rabb, 6-foot-11 forward, Oakland, CA
Much has been made of Rabb making a decision in the near future. The five-star forward is down to two Pac 12 schools and broke them down to NBCSports.com.
"Right now, I'm down to Cal and Arizona. Those are my final two schools," Rabb said. "Right now, it's just me talking to both coaches, trying to make a decision. I like both schools a lot, I like the coaching staffs from both schools. I want to talk to my family and I want to try to figure out what I'm going to do."
Cal is the local favorite for the Oakland native. Head coach Cuonzo Martin is selling Rabb on staying home and making a difference.
"Cal, I'm the hometown kid. I know for a fact that they'll support me and the fan support will be ridiculous. The thing they're selling me on is, 'don't be a part of something, be the start of something,'" Rabb said. "It's been a very long time since they've had a player like myself that came in and they believe can make a big impact. And I believe in myself. Coach Martin and the coaches, they won't let me fail."
Arizona is also making a hard push for Rabb, though, and their track record with big men and making deep NCAA tournament runs is appealing to him.
"Arizona, they've proved themselves throughout the past few years — Sean Miller's been there for awhile now — and he's had a lot of bigs come through there. They've had Brandon [Ashley] and Rondae [Hollis-Jefferson] and Aaron [Gordon], so he's shown me different ways I can play, similar to those guys, fitting into that system. It's proven that the system works. They get deep in the tournament every year. Right now, he just says he needs me to get over that hump to get to the Final Four and maybe the national championship. I believe him and that may be a direction I want to go in but I have to figure that out."
Stephen Zimmerman Jr., 7-foot-0 center, Las Vegas, NV
Another top-flight west coast post player still weighing his options is Stephen Zimmerman. Zimmerman cut his list earlier in the season and is still staying strong with that group of schools.
"I still have my top five: Kansas, Kentucky, UNLV, UCLA and Arizona. I talk to all of them a lot and they basically have the same message," Zimmerman said. "Right now, I'm just talking to my parents. With games like this, people are committing and stuff. So, things come up and we'll see."
Zimmerman is awaiting to see where some other players commit and which players might go to the NBA before making a choice.
"Right now with the season winding down people are going to the NBA and deciding if they're going to stay and people are committing. I'll be able to see who I play with on each team. Of course, that's a big thing," Zimmerman said.
Caleb Swanigan, 6-foot-8 center, Fort Wayne, IN
One of the most bruising post players in the class is Swanigan, who is still considering a number of different schools.
"I'm still looking at Cal, Michigan State, Kentucky, Duke, Purdue, Chicago State and Arizona," Swanigan said.
Chicago State is the school that really sticks out there, but Cougars head coach Tracy Dildy recruited Swanigan's older brother, Carl, to Ole Miss when he was an assistant there. Chicago State also offered Swanigan his first scholarship.
While the Cougars are likely an extreme darkhorse to land Swanigan, he's taken official visits to Cal and Duke during the process. Kentucky has also received multiple unofficial visits.
Swanigan plans to announce his decision in April.