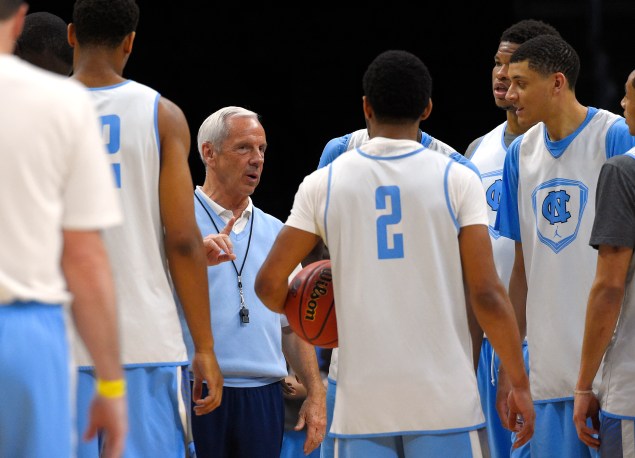 LOS ANGELES — There's no denying the fact that the 2014-15 season was a difficult one for North Carolina head coach Roy Williams. There was the passing of his friend and mentor Dean Smith, and there was also the NCAA investigation that's still ongoing. Add in the fact that his team didn't truly hit its stride until March, and Williams certainly had his hands full throughout the 2014-15 campaign.
North Carolina's season came to an end Thursday night in the Sweet 16, as they fell 79-72 to West regional champion No. 1 Wisconsin, but the finish to the season is something that Williams and his players can build on this offseason. The Tar Heels hung with the Badgers throughout, but a couple key lapses on the defensive end proved costly down the stretch. Wisconsin rebounded nearly 39 percent of its misses Thursday night, and while the Badgers scored just ten second-chance points having to defend Bo Ryan's team for longer stretches than one would want can add up over the course of a game.
North Carolina played arguably its best basketball of the season in March, winning three games in Greensboro before falling in the ACC tournament final to Notre Dame and then beating Harvard and Arkansas to reach the Sweet 16 for the first time since 2012. Outside of center Desmond Hubert, who missed the final 16 games due to a torn ACL, everyone should be back next season led by guard Marcus Paige, wing Justin Jackson and big men Brice Johnson and Kennedy Meeks.
With that being the case the Tar Heels will be one of the early favorites in the ACC. And as we've seen, being a favorite in the ACC means that you're a national title contender as well.
"If you think about it, you take away six minutes in the Notre Dame game and we would have had a great run here in the end, but you can't take away the six minutes," Williams said following Thursday's defeat. "You take away the 7- or 9-0 stretch (in the second half), and we had a great run today.
"I want them to use this as fuel. The little lapses that Justin mentioned and that I mentioned to a failed boxout here or missed free throw there were important," Williams continued. "And if we can take care of those little lapses, then we've got a chance to be one of those teams that has a chance to talk about winning the whole thing."
The biggest development for North Carolina was the growth displayed by some of their supplementary options, with Johnson and Meeks being two of those players. While Meeks was hobbled by a sprained knee suffered against Arkansas Johnson played well against Wisconsin, accounting for 15 points and four rebounds despite playing just 22 minutes due to foul trouble. Both players made noticeable strides this season, with Johnson (13.1 ppg, 7.8 rpg) raising his scoring and rebounding averages by nearly three points and two rebounds per game and Meeks (11.4 ppg, 7.1 rpg) improving his scoring by nearly four points per contest while also being able to play more minutes.
Receiving increased offense from those two, not to mention the freshman Jackson (10.6 ppg, 3.7 rpg, 2.3 apg), ensured that North Carolina would have a fighting chance against quality competition on nights in which Paige wasn't at his best offensively. Against Wisconsin the junior guard scored six of his 12 points in the final two minutes, with the shots keeping the Heels within striking distance, but it was the play of players such as Johnson and Jackson (15 points) that kept North Carolina afloat.
That should only help the program moving forward, as a more potent rotation means that Paige won't be required to save the day as often as he has in the past. What will also help North Carolina is the bond they managed to create in the midst of what was a tough season for reasons both on and off the court.
"It was a tough year for us as a program and for coach especially with everything that happened," Paige said. "But we have a great group of kids that enjoy being around each other more so than my freshman year, more so than last year. And we're going to have a lot of the same kids next year.
"It hurts for the seniors because they don't get another opportunity at this, and in college it goes so fast in those four years. You only get four cracks at it," Paige continued. "Obviously it hurts right now because we're such a close group of guys. But for the guys that do get to come back next year, we're going to try to come together even more as a team and try to execute better and make something special out of it."
North Carolina had to navigate a lot this season, including multiple injuries and an NCAA inquiry that has yet to be completed, but by the end still managed to finish a couple plays away from the Elite Eight. And the status of that NCAA inquiry will have an impact on what the Tar Heels are able to do next season.
But even with that cloud hovering over the program, with no one having much of an idea as to what will happen, the players can't control that. What they can control is how they prepare for 2015-16, a year in which much will be expected of them. The depth and talent are there for North Carolina to put together a special season. What the Tar Heels do this offseason will determine whether or not that turns out to be the case.