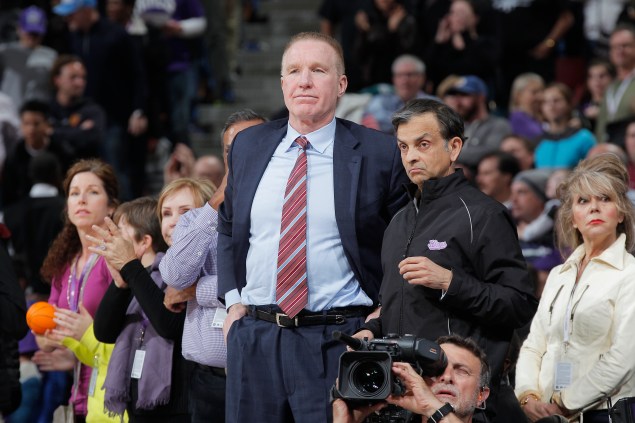 St. John's opted to go with a former star with the hiring of Chris Mullin as head coach on Monday. Mullin is a former three-time Big East Player of the Year and national Player of the Year during a storied four-year career at St. John's. The story was first reported by ESPN's Jeff Goodman.
After St. John's, Mullin went on to play 16 seasons in the NBA and is a five-time All-Star and two-time Olympic gold medalist — including playing on the Dream Team. He's a Naismith Basketball Hall of Fame inductee and brings tremendous credibility from a playing standpoint. Alumni at St. John's will likely be thrilled to have Mullin back in the fold.
This is also the first time Mullin will coach, and he's taking over a 2015 NCAA tournament team that loses a lot of senior production with four key players exhausting eligibility. Junior big man Chris Obekpa and sophomore guard Rysheed Jordan could also opt to go to the NBA Draft.
The 51-year-old Mullin will need to hire a strong staff around him in order to effectively recruit, but he has a chance to establish credibility with players by utilizing his pro connections. Mullin was a consultant with the Sacramento Kings since May 2013 and was also at one time the general manager of the Golden State Warriors.
It should be noted that Mullin isn't entirely unfamiliar with the current landscape of college basketball. He had a hand in overseeing the college scouting for the Kings in his advisory position.
Mullin hasn't had any experience recruiting, however, and four-star guard Brandon Sampson opened up his recruitment after previous head coach Steve Lavin's departure. Re-establishing contact with Sampson and recruiting five-star big man Cheick Diallo will be immediate recruiting priorities for Mullin and his staff.
Lavin twice led St. John's to the NCAA tournament in five seasons and finished 21-12 in 2014-15. Lavin and St. John's agreed to part ways last week.
St. John's has only made two NCAA tournament appearances since 2002. The hope is that Mullin can be more consistent making the tournament then his predecessors.