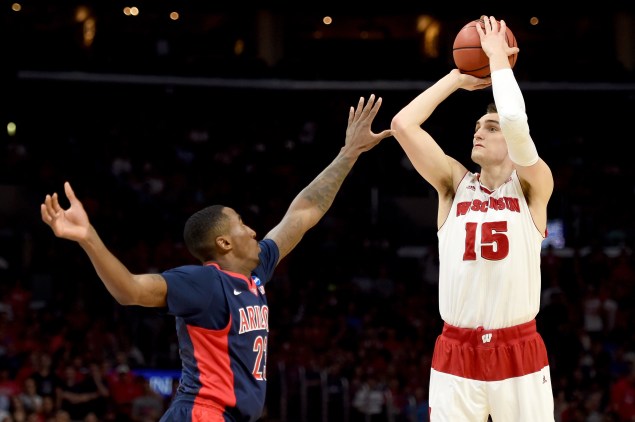 SECOND WEEKEND M.O.P.: Sam Dekker, Wisconsin
All we heard about this offseason was how good Sam Dekker was going to be this year, to the point that some people picked him to be the Preseason National Player of the Year. And while the Wisconsin-native had himself a solid season, he never quited lived up to that hype … until this weekend. He had a career-high 23 points and 10 boards in the win over North Carolina, a precursor to the 27 point outburst he had in Saturday's Elite 8 win over Arizona. 20 of those 27 points came in a second half where Dekker was 6-for-6 from the floor and 5-for-5 from three, hitting a ridiculous, pull-up three to seal the win:
ALL-SECOND WEEKEND TEAM
Dekker
Justise Winslow, Duke: Winslow was a monster against Utah, going for 21 points and 11 boards as the Blue Devils knocked off the Utes in a game where Jahlil Okafor and Quinn Cook both struggled. He followed that up with 16 points and five boards in the win over Gonzaga to get Duke to the Final Four.
Karl Towns, Kentucky: Towns didn't do much in Kentucky's Sweet 16 win over West Virginia, but he didn't really need to do much. The Mountaineers never had a shot, losing by 39 points. Towns did a lot against Notre Dame, however, finishing with 25 points and four assists as a low-post powerhouse in a 68-66 win over the Irish.
Frank Kaminsky, Wisconsin: Dekker was the star, but Kaminsky was pretty good in his own right this weekend. He had a relatively uninspiring 19 points and eight boards in the Sweet 16 win over North Carolina, following that up with 29 points and six boards as the Badgers knocked off Arizona to get to their second straight Final Four.
Travis Trice, Michigan State: Trice was terrific in two games this past weekend, averaging 20.5 points and 3.5 assists in wins over Oklahoma and Louisville, shooting 7-for-19 from three while getting the Spartans back to the Final Four for the first time since 2009.
ALL-SECOND WEEKEND TEAM
Denzel Valentine, Michigan State
Zach Auguste, Notre Dame
Wayne Blackshear, Louisville
Tyus Jones, Duke
Kyle Wiltjer, Gonzaga