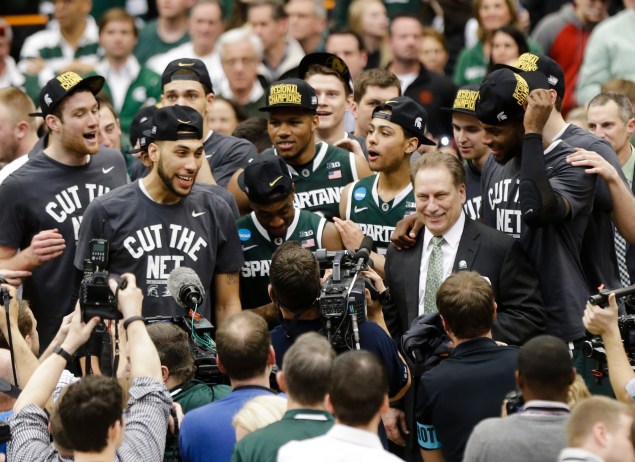 INSTANT ANALYSIS: East | West | South | Midwest
Every year when the NCAA tournament bracket is released, one of the first things that fans and pundits alike do is count the number of teams from each conference. And in this year's bracket two leagues, the Big 12 and the Big Ten, led the way with seven NCAA tournament participants apiece.
The Big 12, considered by many to be the strongest conference from top to bottom, has a two-seed in Kansas and three three-seeds in Baylor, Iowa State and Oklahoma. As for the Big Ten, West region one-seed Wisconsin was (as expected) the highest rated of their seven participants.
Next in line were the ACC and Big East with six teams apiece, with the latter being rated the second-strongest conference in Ken Pomeroy's metrics. Both conferences have a one-seed, with Duke sitting at the top of the South region bracket and Villanova the top seed in the East.
READ MORE: All of NBCSports.com's NCAA tournament coverage
Top overall seed Kentucky is one of five teams representing the SEC, with the Pac-12 (four), Atlantic 10 (three), Mountain West (three), American (two) and Missouri Valley (two) being the other conferences with multiple teams in the field.
Below is the breakdown of bids by conference, with the teams being listed in alphabetical order. This will be updated each day of the tournament, with eliminated teams getting a line through their name and the record for each conference being updated as well.
Big 12 (7): Baylor, Iowa State, Kansas, Oklahoma, Oklahoma State, Texas, West Virginia Record: 5-7
Big Ten (7): Indiana, Iowa, Maryland, Michigan State, Ohio State, Purdue, Wisconsin Record: 11-5
ACC (6): Duke, Louisville, North Carolina, NC State, Notre Dame, Virginia Record: 15-5
Big East (6): Butler, Georgetown, Providence, St. John's, Villanova, Xavier Record: 5-6
SEC (5): Arkansas, Georgia, LSU, Kentucky, Ole Miss Record: 6-4
Pac-12 (4): Arizona, Oregon, UCLA, Utah Record: 8-4
Atlantic 10 (3): Davidson, Dayton, VCU Record: 2-3
Mountain West (3): Boise State, San Diego State, Wyoming Record: 1-3
American (2): Cincinnati, SMU Record: 1-2
Missouri Valley (2): Northern Iowa, Wichita State Record: 3-2
West Coast (2): Gonzaga, BYU Record: 3-2
One-bid conferences: America East (Albany 0-1), Atlantic Sun (North Florida 0-1), Big Sky (Eastern Washington 0-1), Big South (Coastal Carolina 0-1), Big West (UC Irvine 0-1), Colonial (Northeastern 0-1), Conference USA (UAB 1-1), Horizon (Valparaiso 0-1), Ivy (Harvard 0-1), MAAC (Manhattan 0-1), Mid-American (Buffalo 0-1), MEAC (Hampton 1-1), Northeast (Robert Morris 1-1), Ohio Valley (Belmont 0-1), Patriot (Lafayette 0-1), Southern (Wofford 0-1), Southland (Stephen F. Austin 0-1), SWAC (Texas Southern 0-1), Summit (North Dakota State 0-1), Sun Belt (Georgia State 1-1), WAC (New Mexico State 0-1).