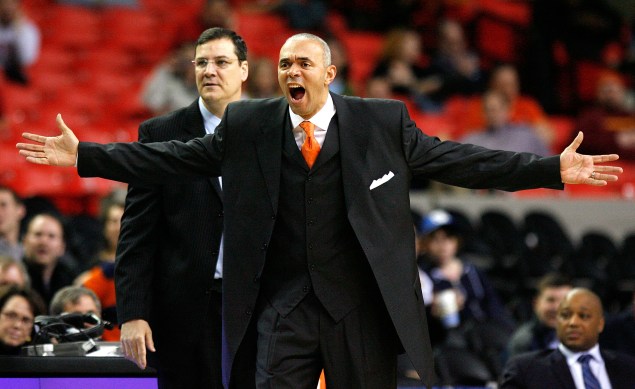 Dave Leitao will return as the head coach at DePaul, multiple sources told NBCSports.com. The former head coach of the Blue Demons for three seasons, Leitao left DePaul after the 2004-05 season to take the same position at Virginia.
Leitao's name was brought to DePaul's administration through the Atlanta-based Parker Executive Search firm. Other candidates to interview for the DePaul head coaching job included Buffalo head coach Bobby Hurley and UTEP head coach Tim Floyd. Valparaiso head coach Bryce Drew's name had also been linked to the DePaul job during the search process.
"Following our search that garnered high-level national interest, we are excited to announce that Dave Leitao is our next men's basketball coach," said athletics director Jean Lenti Ponsetto in the official release. "His success here speaks for itself with three postseason appearances in three years with teams that energized our alumni and fans with their competitiveness and work ethic. When he left in 2005, we recognized that it is the nature of our business that dynamic coaches get recruited away. Now we are pleased to welcome Dave, his wife Joyce and their family back to Lincoln Park with great enthusiasm for his leadership and the future development of our men's basketball program."
Although Leitao didn't leave DePaul on the best of terms in 2005, sources said that the current DePaul administration trusts that Leitao wouldn't leave them again for another position.
Leitao made the postseason during all three seasons he was head coach at DePaul while the program was still in Conference USA, making the Round of 32 in the NCAA tournament in 2004. DePaul has only made one postseason trip since Leitao left when former head coach Jerry Wainwright took the team to the NIT in 2007.
Since being let go from Virginia in 2009, Leitao was head coach of the NBA D-League's Maine Red Claws for one season and has been an assistant coach on Frank Haith's staff at both Missouri and Tulsa. Leitao also was previously the head coach at Northeastern and owns a 143-129 career record.
According to sources, Leitao would look to retain DePaul assistant coach Billy Garrett Sr., the father of DePaul starting sophomore guard Billy Garrett Jr. Since DePaul parted ways with former head coach Oliver Purnell a few weeks ago, Garrett Sr. has remained on staff and continued to recruit for DePaul.