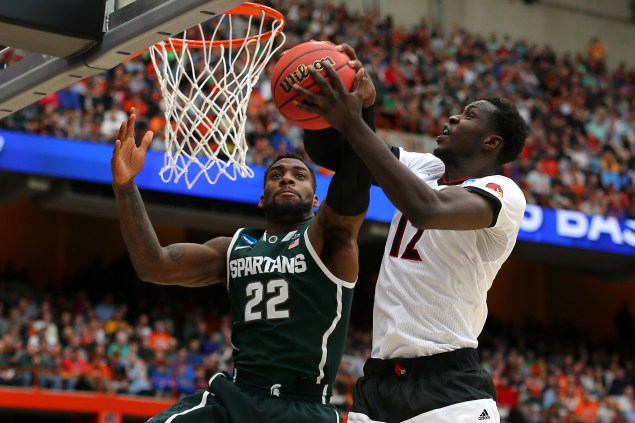 While speaking to reporters on Saturday afternoon, Louisville's star forward Montrezl Harrell made sure to let everyone know what we already know about him.
"I don't take any plays off," he said. "I go in and make sure I play 110 percent every play."
He's right. There may not be a player in the country that goes harder than Harrell does. But he made sure to add some fuel to the fire when asked about Branden Dawson, his Michigan State counterpart at the power forward spot.
"I haven't seen too many players play with the energy that I play," Harrell said. "If he has as much energy as me it should be a good game tomorrow. I don't see him running with as much energy as I have."
On Sunday afternoon, with a trip to the Final Four on the line, it was Dawson who made the biggest plays. In overtime between No. 7 Michigan State and No. 4 Louisville, Dawson blocked two shots, had a strip that led to a turnover and, most importantly, tipped in a missed Bryn Forbes three with 30 seconds left to give the Spartans a 74-70 lead.
All four are what you might call "energy plays".
Dawson finished with nine points, 11 boards and four blocks while Travis Trice and Denzel Valenite combined for 32 points and 11 assists as the Spartans advanced to the Final Four for the seventh time under Tom Izzo, beating the Cards 76-70. This is their first trip to college basketball's final weekend since 2009, when the Spartans lost to North Carolina in the national title game. They haven't won a national title since 1999, and given who they'll be joined by in Indianapolis — Kentucky, Wisconsin and either Duke or Gonzaga — it's hard to imagine the Spartans snapping that streak this season.
But as recently as a month ago, it was hard to imagine that the Spartans could even make it this far in the NCAA tournament. They lost to Minnesota at home two weeks before the regular season ended. They lost to Illinois at home in early February. They lost to Nebraska, and, back in December, they lost at home to Texas Southern.
That's not exactly awe-inspiring.
Then again, this is Tom Izzo we're talking about.
There's a reason you never bet against Izzo in the NCAA tournament. If it wasn't for Shabazz Napier and last year's UConn Huskies, every player that Tom Izzo has recruited that has spent four years on campus would have played in the Final Four. This year's coaching performance is as impressive as any Izzo has ever had, from getting Dawson to play hard on every possession to molding Travis Trice into a point guard to the decision to play Lourawls "Tum Tum" Nairn and Trice together in the back court.
But it may not be his best.
Izzo is the first coach to ever lead a team to the Final Four three times as a No. 5 seed or lower, and he now has 12 NCAA tournament wins as the lower seed, which is a record.
That should tell you all you need to know about this coach and this team.