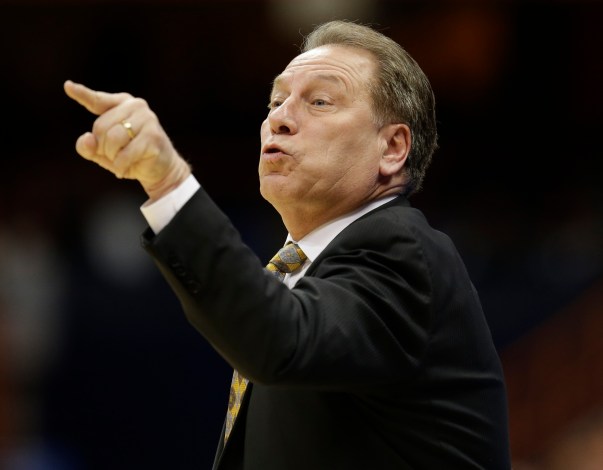 Michigan State head coach Tom Izzo works magic during the month of March, so naturally, there were questions about what the Spartans did to prepare for their Sweet 16 game against Oklahoma on Friday night.
After a sluggish start that saw Michigan State trailing 18-8, they would eventually made a run for a win over the Sooners to advance to the Elite Eight in the East Regional.
Izzo told reporters after the game, including MLive's Kyle Austin, that the Spartans went to see the new Will Ferrell/Kevin Hart comedy "Get Hard" before the 10:07 p.m. local start time in order to get rid of some of the nervous jitters of sitting and waiting to play all day.
"I probably caused the problems in the first half," Izzo said to reporters on Friday night. "Instead of grinding it in some film, we went to a damn movie. We did it just to try to break up the day."
The decision to see the movie was made with Michigan State team captains and Izzo selected "Get Hard" because it wasn't too serious. Izzo might have bypassed a team film session on Oklahoma's offense, but he did some advance scouting of another kind when selecting the movie Michigan State would attend.
"I had to find something that was a little light," Izzo said. "I didn't want anything too deep. This wasn't too deep. I kept seeing the commercials."
Because Izzo has met Ferrell and Hart before, he also felt like it was the movie for his team to see.
Izzo said he sat with Hart at a Connecticut game last year and met Ferrell years ago, leading him to think sending his team to a movie starring the two could be good karma.

"'I said this could be a good omen.' So they went," Izzo said. "I said if we lose, we'll never do it again. If we win, hell we might go to the movies tomorrow. I don't know."
So now the question becomes, will the Spartans hit an early movie before Sunday's Elite Eight game against Louisville? That game starts significantly earlier, with a 2:20 p.m. local start time, and Michigan State has a limited turnaround window for the Cardinals after a few days of preparation for Oklahoma.
Will Ferrell also keeps popping up randomly with the remaining Big Ten teams in the 2015 NCAA Tournament. Ferrell, known as "Frank the Tank" from the movie "Old School" met college basketball's version of "Frank the Tank" — Wisconsin senior center Frank Kaminsky — earlier this week out in Los Angeles.