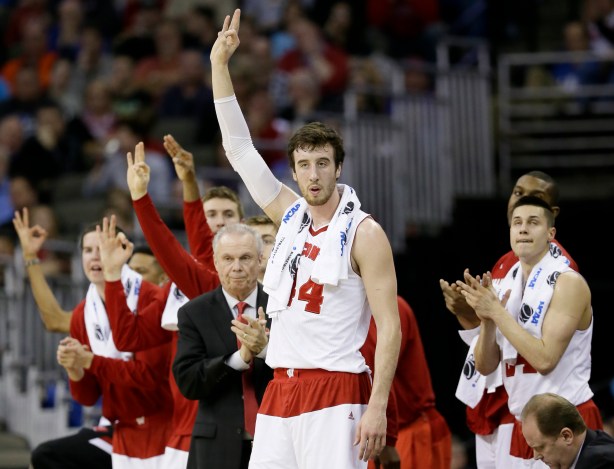 LOS ANGELES — Look at any list of the top candidates for national Player of the Year and Frank Kaminsky's name is on it. Given the jump he made from his sophomore to junior season, it was natural to anticipate a similar step forward for Wisconsin's 7-foot senior when taking into consideration factors such as the work he'd put in during the offseason or the fact that head coach Bo Ryan and his staff have had success in developing players in Madison.
But his status as a favorite for the top individual honor doesn't fall in-line with that of former Creighton forward Doug McDermott, who swept the major awards a season ago. McDermott was considered to be the clear favorite before the 2013-14 season began and that's how things played out, with "Dougie McBuckets" capping what was one of the best offensive careers in the history of college basketball.
McDermott averaged nearly 15 points per game as a freshman, and in each of the three seasons that followed, the former Bluejay averaged at least 22.9 points per contest. With that level of productivity comes a star status that makes a player noteworthy amongst basketball savants and casual fans alike. That wasn't the case for Kaminsky, whose progress has been far more gradual.
After averaging 4.2 points per game as a sophomore, Kaminsky's output jumped to just under 14 points and 6.1 rebounds per in 2013-14, which included a 43-point outburst in a win over North Dakota and a 28-point, 11-rebound performance in the Badgers' Elite Eight victory over Arizona. Yet even with those productive nights there was plenty of room for growth, as Kaminsky failed to score in double figures in 13 games and his longest streak of double-digit performances was six games (his longest in Big Ten play was five games).
That works into what's been the key for Kaminsky this season: consistency. The Big Ten Player of the Year has failed to reach double figures in just one game this season, scoring six points in the Badgers' Battle 4 Atlantis semifinal win over Georgetown, and Kaminsky (18.4 ppg, 8.1 rpg, 2.7 apg) has improved his percentages from both the field (55.3 percent) and from three (41.3 percent).
"Just consistency," Kaminsky noted when asked where he believes he's made the greatest improvement. "Last year there would be one game in which I'd have 25 points, and the next game I'd have six. Just playing more consistent and being better from day-to-day, night-to-night and practice-to-practice has been good."
While Kaminsky made note of his improved consistency, teammate Nigel Hayes praised the senior for his feel for the game and his footwork in the post.
"The biggest growth would be him knowing when to assert himself and when to share the ball because he can definitely score whenever he wants," Hayes noted. "I think he does a good job of finding his teammates and picking his spots.
"He's also really good at getting position because Frank isn't, and he'd say this, the most athletic 7-footer but he's able to do things with his great footwork to get an advantage."
But the progress made by Kaminsky isn't solely about him when it comes to the impact. As the saying goes "iron sharpens iron," and working against a player of Kaminsky's skill level can only help his teammates who are at different stages in their individual development. A prime example of this is Hayes, who has gone from a key reserve to a starter on a team that's even better than it was a season ago.
After averaging 7.7 points and 2.8 rebounds per game as a freshman, Hayes has raised his averages to 12.5 points, 6.4 rebounds and 2.0 assists per contest. And, according to him, getting to watch Kaminsky up close and personal has helped his game while in Madison.
"He's helped me mainly by watching the things he does," Hayes said in regards to how Kaminsky's helped him develop. "He has great footwork. I've watched a lot of the post moves he has, and I try to replicate them myself."
Where Wisconsin's season will come to an end remains to be seen, with Saturday's game against No. 2 Arizona representing a significant challenge for both teams. But without Kaminsky raising his game to another level this season, one in which 20-point outings became the norm, it can be argued that despite having many of the same pieces from last year's Final Four team Bo Ryan's Badgers aren't in this position.
But this is what happens in Madison under the tutelage of Ryan and his staff. Players who work hard improve during their time in the program, with Kaminsky likely being the most "extreme" example. Within four years Kaminsky's developed from a role player who didn't see much playing time into one of the nation's best players. Provided with the platform needed to develop his game, Kaminsky's taken advantage and he credits Ryan for that.
"It's hard to put into words how much he actually does for us, because you start to realize in these times how much he has an effect on us, the way we say things, the way we do things on the court, how we interact with each other," Kaminsky said. "It's really just a true, great program."