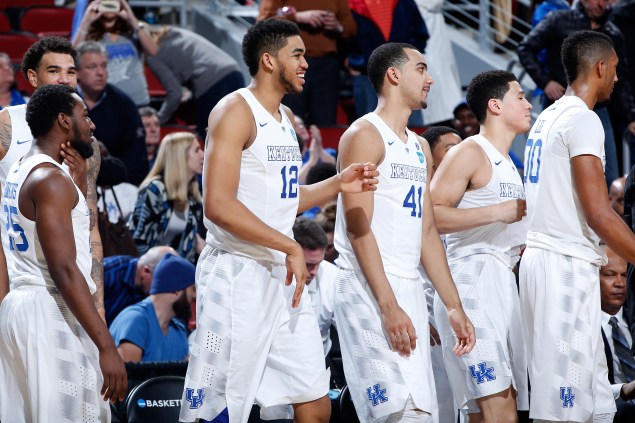 As the first college basketball team to ever be 37-0, many are already putting Kentucky in the conversation with the all-time great college basketball teams in the game's history. The Wildcats, of course, want to cement that legacy by winning the national championship and finishing the season 40-0, but it's also fun to wage hypothetical cross-generation basketball wars in your mind to pass the time.
Thanks to a former oddsmaker and casino consultant, now we have some spreads on how Kentucky might be perceived against some of the best teams in college basketball history. In a story with the Associated Press, David Malinsky, the former oddsmaker, set some lines for games if Kentucky were to somehow use a time machine and face other teams from other eras.
Much has been made about how the 2014-15 Wildcats stack up with the 2011-12 Kentucky team that won the national championship. The Anthony Davis-led Wildcats from 2012 would be favored by 3.5 points, according to Malinsky, and he believes that Kentucky group wouldn't be the only team favored against this season's Wildcats.
Malinsky also thinks 1991 UNLV (favored by 6 points), 1976 Indiana (favored by 6.5 points) and 1968 UCLA (favored by 9.5 points) would all be the favorite to knock off this current Kentucky team. The 1976 Bob Knight-coached Indiana team is the last group in college basketball to finish the season undefeated.
The reasoning behind these odds? Malinsky believes that the 2015 Wildcats are a byproduct of the one-and-done era while the other teams he used featured more seasoned veterans and four-year college players.
"They really must be accepted as part of the one-and-done era, a time at which the quality of play across the board is significantly weaker than it was in the previous era," Malinsky said of the 2015 Wildcats to the AP. "It's not that this team could not rise up to be one of the best, should the players stay in school for four years, but that it will not happen."
While it's fun to think about some of these potential matchups, Kentucky still has to get through No. 3 seed Notre Dame in the Midwest Regional on Saturday before potentially facing two No. 1 seeds during the Final Four. None of those contests will be easy for John Calipari's team, but if they're able to win a national championship, this discussion will certainly be re-visited.
What do you think of these hypothetical odds? Which matchups would you want to see in these games? Did Malinsky miss any all-time great college basketball teams that you think should be in this conversation?