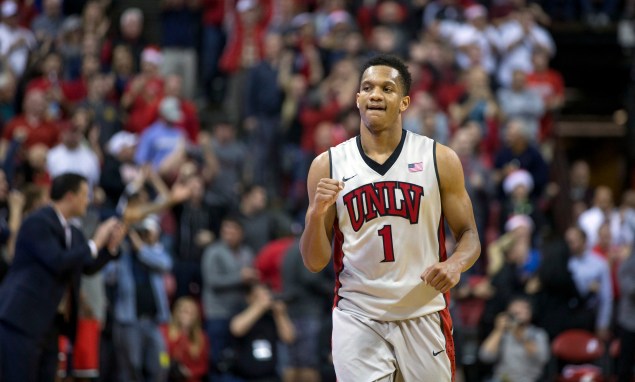 UNLV freshman Rashad Vaughn had a strong freshman season in which he led the Rebels in scoring at 17.8 points per game.
The NBA Draft chatter has already begun for the 6-foot-6 freshman guard as Yahoo's Adrian Wojnarowski reported on Friday that Vaughn will enter the 2015 NBA Draft.
Although Wojnarowski has reported that Vaughn is leaving college hoops for The League, Vaughn refuted the report on Twitter on Friday.
We could very well see Vaughn change his tone and enter the NBA Draft this season, but, for now, that doesn't appear to be the case.
Vaughn was a McDonald's All-American out of Findlay Prep, by way of Minnesota, but missed 10 games during the season with a knee injury. He also averaged 4.8 rebounds per game on the year and shot nearly 44 percent from the field.
Draft Express currently has Vaughn as a second round pick in the 2015 NBA Draft as the No. 48 pick overall.