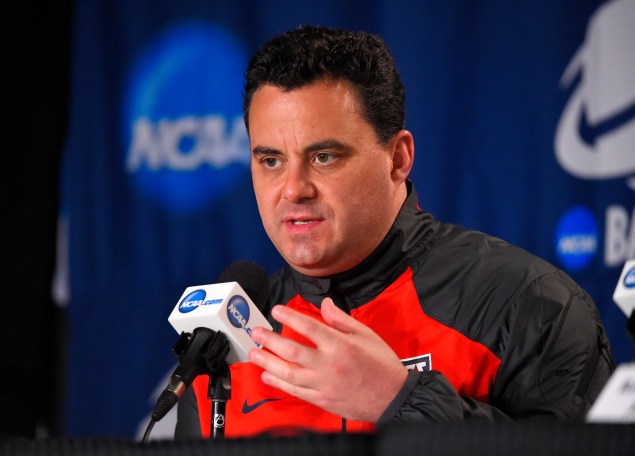 LOS ANGELES — The NCAA tournament, while entertaining, can also be a painful experience. While some teams are eliminated in short order, others find themselves tantalizingly close to their goal of reaching the Final Four only to have that dream shattered with the defeat serving as motivation for the following season.
For the members of this year's Arizona squad that played last season, the date March 29, 2014 is one that brings back vivid memories of what could have been. The top seed in the West region, the Wildcats played an absolute thriller with No. 2 Wisconsin in the regional final in Anaheim. Sean Miller's team fell short of its goal of reaching the Final Four, losing by a point in overtime.
With that result came a number of questions, focusing on the impact that the absence of Brandon Ashley had on the team offensively as well as the question of when Miller would be able to get his program over the hump. That "hump" is getting to the sport's final weekend, with the Final Four being an event that can change the narrative that hovers over a coach and his program.
With Arizona's last Final Four appearance coming in 2001 and Miller yet to lead a team that far in his ten-plus seasons as a head coach, it's seen as one of the final frontiers for both coach and program. While there's definitely motivation to exceed last season's run, there's also the need to acknowledge the fact that this program has reached the Sweet 16 in each of the last three seasons and Saturday's rematch will be Arizona's second consecutive Elite Eight appearance.
"Of course it's motivation to see if you can get back to this level," Miller said after the Wildcats beat No. 6 Xavier Thursday night. "Very seldom are you right there in an Elite Eight game that you lose in overtime and then the next year you're back, let alone playing the same team. So there is some uniqueness to that.
"But I think a lot of our players were motivated this off-season to come back and make a run at this. And here we are, and that's really to our credit. As you know, especially in this tournament, that is not an easy thing to accomplish."
Yet in this era, simply getting to the doorstep of the Final Four isn't enough regardless of how difficult (or unpredictable) the NCAA tournament can be. Arizona hasn't reached the Final Four since 2001, and this current stretch represents the longest since Lute Olson led the Wildcats to their first Final Four in 1988.
The hopes and expectations heaped upon elite programs can be tough for some players and coaches to bear. But in the case of Arizona they're looking to do their best to simply focus on the task at hand, as opposed to what it could mean to the history books and the way in which their program is presently viewed.
"Obviously, it's a big game to return to the Elite Eight and play the exact same opponent as we did last year and come up short," senior point guard T.J. McConnell said Thursday night. "But we're going to take it as any game like we would be playing anyone else. It doesn't matter if we're playing Wisconsin or if we were playing North Carolina, we'd game plan the same, and it happened to be Wisconsin.
"So we're not making this game any bigger than it needs to be."
That approach is one reason why the Wildcats have lost just three games on the season, with talent and depth being others. Last year's group, especially once Ashley went down in early February, didn't have as many options offensively and they didn't have an answer when it came to defending Frank Kaminsky either. Arizona shot just 38.3 percent from two in the one-point loss, with their top three players in regards to shot attempts in that game all struggling to score inside of the arc.
Arizona's improved its shooting from both inside of the arc and from the foul line this season, and they'll need to produce a high-level game on that end of the floor against Wisconsin. Of greater importance for the Wildcats will be the way in which they defend Kaminsky, who singed them for 28 points and 11 rebounds (seven offensive) in Anaheim. Kaminsky was able to take advantage of matchups with both Aaron Gordon (in the post) and Kaleb Tarczewski (on the perimeter) that night, and he represents the biggest matchup issue for Arizona in the rematch as well.
But this is a group that is better equipped for that particular challenge, with Ashley healthy and the versatile Rondae Hollis-Jefferson developing into one of the nation's best and most versatile defenders. Both Arizona and Wisconsin have undergone changes to their respective rotations, with Bronson Koenig and Nigel Hayes becoming more integral figures for the Badgers and Stanley Johnson giving the Wildcats some more offense on the wing.
Clearly both teams have been motivated by the way in which their respective seasons came to an end. However in the case of Arizona, there's also the added burden of ending a streak that's been active since 2001. And while those of us on the outside remain fascinated by the "best coach to have not reached the Final Four" label, for Miller it's simply a matter of continuing to knock on the door in hopes of it eventually opening.
"Usually you have to knock at the door a few times before you break it down," Miller said earlier this week. "We'll see if this is our year. But we have that opportunity. What we're trying to do is play our best right now. If we do that, based on our season and the team we have, I think we have a chance to advance."