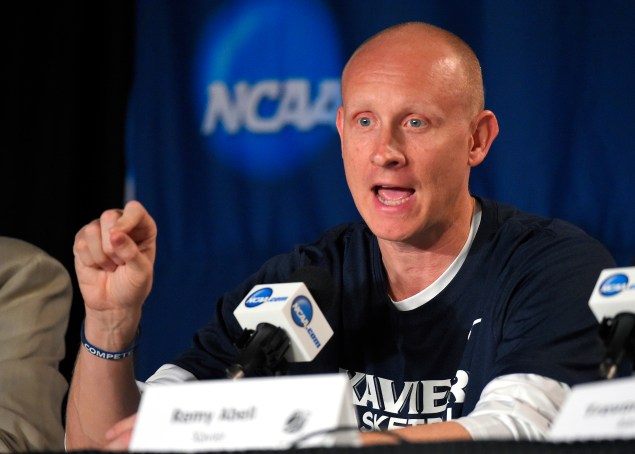 LOS ANGELES — Tom Izzo and Rick Pitino have stellar reputations for winning in March, combining to reach the Sweet 16 13 times in the last eight seasons. They also happen to head the only two programs that can say they've been to the second weekend of the NCAA tournament more often during that time than Xavier, who has won at least two games in college basketball's biggest event five of the last eight years.
There's more.
Xavier has been to the NCAA tournament nine of the last ten seasons, something that only ten schools can claim. Five of them — Duke, Gonzaga, Kansas, Michigan State and Wisconsin — have been all ten years, which puts the Musketeers in a class with college basketball's elite.
This current run has occurred under the watch of the two head coaches who will meet in a West Region semifinal Thursday night. Sean Miller, the head coach of No. 2 Arizona, ran the Xavier program from 2004-09, with his understudy and current head coach of No. 6 Xavier, Chris Mack, taking the reins from that point forward.
Mack was a member of Miller's staff before getting promoted once Miller left for Tucson, and that is a storyline that has received an ample amount of attention this week. But there's also the matter of continuity, and a look into that will reveal that both coaches had — or, in the case of Mack, have — tools at their disposal at Xavier that have helped the program both attain and sustain success despite multiple coaching changes and multiple conference affiliations.
"Everybody is aligned, and their basketball program is very important," Miller said when asked about what stuck out to him during his eight years (assistant and head coach) at Xavier. "And because it's very important, there are people that have given their heart and soul to make it the best it can be, whether it be the Cintas Center, and if you haven't been there, in my opinion it's one of the great arenas in the game that's built right on campus. It's a quest to be better every year. Never be satisfied."
Those traits go well beyond the current ten-year run, with Xavier winning 21 or more games in 27 of the last 32 seasons going back to Bob Staak leading the Musketeers to 22 wins in 1982-83. Following Staak's six-year run some familiar names have led the program, from Pete Gillen to the late Skip Prosser, and from Prosser to current Ohio State head coach Thad Matta who won 26 games in each of his three seasons (with Miller as one of his assistants) before moving on.
For some programs the coaching changes not only result in the occasional transition year, but a prolonged malaise of sorts where the act of winning 20 games in a season becomes something to celebrate as opposed to an achievement that is simply accepted.
"I would say that ever since Bob Staak and Pete Gillen, along with some great players, guys like Byron Larkin and Tyrone Hill and Derek Strong really put Xavier on the map, the expectations for Xavier basketball have been extremely high," Mack said.
"Guys like Skip Prosser, Thad Matta, Sean, carried the torch and simply elevated the program to new heights. Our fan base has come to expect getting to the NCAA tournament, and that not even being acceptable, but to advance."
The question for Xavier moving forward is whether or not those expectations have and will increase. When the Musketeers began this lengthy run of success in the early 1980's they were a member of the Midwestern City Conference (which was eventually renamed the Midwestern Collegiate Conference and is now the Horizon League).
Since then the Musketeers have spent time in the Atlantic 10, and this is their second season as a member of the Big East. While the competition and traditions of the Atlantic 10 schools are nothing to scoff at, moving to the Big East changed the equation for Xavier and fellow newcomers Butler and Creighton.
"I think it's been a natural progression for our program to go from the MCC, which is now the Horizon League, to the Atlantic 10, which was a great move at the time for Xavier, now to a conference that is arguably one of the best basketball conferences in the entire country," Mack said of the conference moves. "It's a hefty bar at Xavier."
But does that move apply some sort of pressure to Xavier to get past the second weekend, despite the fact that many of the most powerful programs in college basketball can also tap into another revenue stream (major college football)? The program's had the resources needed, from coaches to facilities to everything else that comes with college basketball, to be successful and Xavier's history bears that out.
"That's why when you look at seven Sweet Sixteens, when you look at [Xavier's] tournament history…I was actually looking at our history at Arizona, which you could make the case is second to none," Miller noted. "When you put up Xavier's history, especially in the NCAA tournament, it's amazing that there are some comparisons."
While the final weekend of the college basketball season is obviously important, focusing solely on that can at times be at the expense of recognizing what's been done leading up to that point. But as we've seen both this season and in years past, matchups have a lot to do with whether or not a program can navigate the bracket and reach the Final Four. And with those being unpredictable until the bracket is released, the best a program can do is to ensure that its coaches and players have everything they need to succeed.
Do that, and for many programs the one-game "lottery" that is the NCAA tournament eventually produces a favorable result. Will there be a point where a trip to the Final Four will be "demanded" of Xavier? Maybe so, but a lot of that depends upon factors such as seeding. Look at Gonzaga, which has transformed from a "Cinderella" program to one that's been criticized in recent years for not backing up strong regular seasons with deep tournament runs (despite losing just one game to a lower-seeded team since 2009).
Whether or not questions are asked when it comes to the Final Four doesn't matter, because they're going to be there. All a program can do is assemble the resources needed to maximize their chances of breaking through, which is what Xavier's worked hard to do over the years.
"The last level [Final Four] is the only thing that's missing, and clearly they're here to make that happen," Miller added. "It's just, I think, amazing when everybody cooperates and thinks the same, you have some really intelligent people at the top, how great things happen. The benefit in so many cases is the student-athletes, watching their experience and what they become when they leave the school."