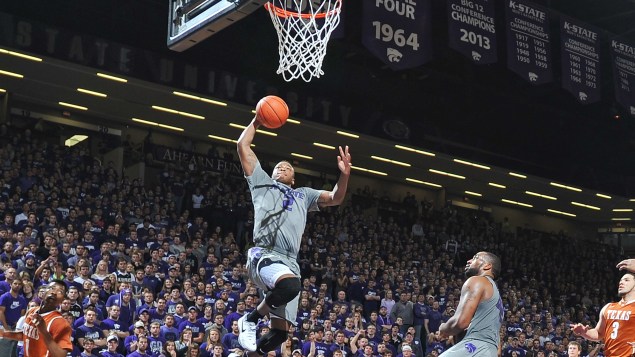 Kansas State took a hit to its rotation on Tuesday as three players are leaving the program. Leaving the Wildcats due to dismissal from the program is sophomore guard Marcus Foster and freshman shooting guard Tre Harris, according to a release from the school. Sophomore point guard Jevon Thomas will also transfer.
The loss of Foster is the major news here. As a freshman, Foster was one of the best players in the Big 12 as the 6-foot-2 guard averaged 15.5 points, 3.2 rebounds and 2.5 assists per game for the Wildcats. As a sophomore, Foster started to become a problem in the locker room. He was benched in a Big 12 game against Oklahoma State and appeared to lose confidence at times during the season. His shooting percentages dropped to 38 percent from the field and 34 percent from 3-point range.
The 6-foot-1 Thomas was a major part of the Kansas State backcourt rotation this season. Thomas averaged 25 minutes per game and put up 4.5 points and 3.3 assists and 3 rebounds per contest in his sophomore season. One of the premier perimeter defenders in the Big 12 when he was engaged, Thomas also had 1.1 steals per game and was a difference-maker on that end when he was providing pressure.
At 6-foot-5, Harris showed some ability to score in bursts as a freshman role player. In 21 games, Harris was 20-for-44 from 3-point range and seemed to find his niche in the rotation by being a spark plug. Harris wasn't overly productive in other facets of the game, however, as he had 18 rebounds and 11 assists in 211 minutes played.
Foster leaving means the Wildcats are losing their most talented player with two more seasons of eligibility. It's a major hit for Bruce Weber's program and now there isn't a clear go-to guy on the roster without him.
Losing Thomas and Harris could hurt the backcourt depth for Kansas State going forward, but the Wildcats underachieved this season in-part to bad attitudes, so many losing some players could be an addition by subtraction scenario.