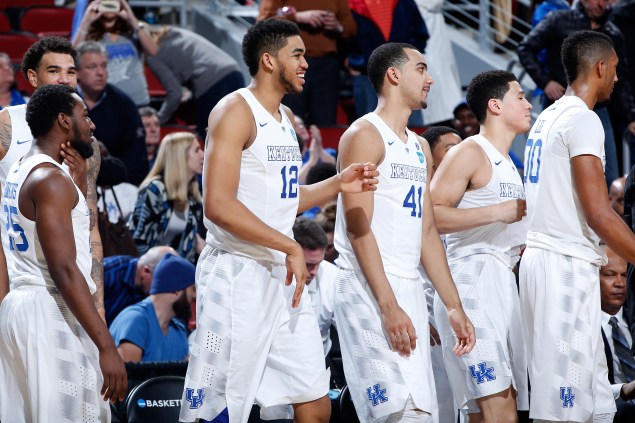 1. Kentucky (No. 1 Midwest): Duh.
2. Arizona (No. 2 West): Arizona is streaking. I think it's safe to say that now. Gabe York is playing some of the best basketball of his career, providing the kind of long range threat the Wildcats need to stretch defenses. T.J. McConnell was at his all-american best in the win over No. 10 Ohio State. And that big, athletic front line is still just as big and athletic as always.
3. Wisconsin (No. 1 West): I still think that Wisconsin, when they're playing their best basketball, has the best chance to take down Kentucky. That hasn't changed. But in order to do that, they need to first beat North Carolina and then, if seeds hold, take out Arizona. The Badgers did not play well — by their standards — in the first weekend. Can they even get to the Final Four?
4. Duke (No. 1 South): I still have major doubts about their ability to defend, but with the way Justise Winslow is playing at the four and how overwhelming Duke's dominance of San Diego State was on Sunday, it's hard to overlook the Blue Devils at this point. With the way the bracket has broken down, Duke may be the favorite to take on Kentucky in the title game. Unless …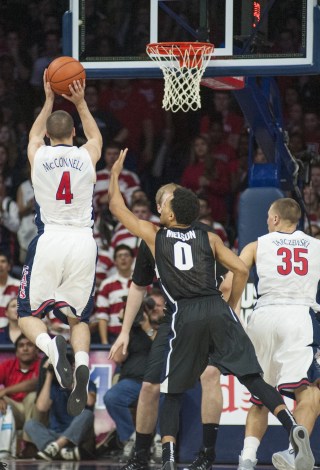 5. Gonzaga (No. 2 South): … you are like me and think that the Zags truly do have a chance to upset the Blue Devils. Gonzaga was terrific in their first two games in the tournament, largely due to the play of Kevin Pangos at the point and Kyle Wiltjer at the stretch four spot. My concern? What happens if (when?) Wiltjer is forced to matchup with Justise Winslow?
6. North Carolina (No. 4 West): The Tar Heels got a tough draw when it comes to winning a title, as they would have to go through the three best teams in the country to get there if seeds hold. That said, they have a big front line (pending Kennedy Meeks' knee injury), they have Marcus Paige, and they have Justin Jackson and J.P. Tokoto, who are playing well right now.
7. Oklahoma (No. 3 East): I have the Sooners ahead of Michigan State because I think they are more balanced and better defensively. They're also streakier from beyond the arc. When Buddy Hield is knocking down shots, they have the horses to compete with anyone.
8. Michigan State (No. 7 East): The Spartans were somewhat underseeded because of a silly loss to Texas Southern, but they are playing their best basketball of the season right now. The trio of Travis Trice, Denzel Valentine and Branden Dawson makes them incredibly dangerous on the nights all three are playing well.
9. Utah (No. 5 South): This might actually be a bit low for the Utes. They're very good defensively, they have shooters that can spread the floor and they have Delon Wright, who still hasn't played his best basketball yet in this tournament. The concern? What happens to Jakob Poeltl against an elite big man like, oh, I don't know, Jahlil Okafor?
10. Notre Dame (No. 3 Midwest): Jerian Grant and Demetrius Jackson, when surrounded by the shooters that the Irish have in their lineup, combine to be the most dangerous back court left in the tournament. But their size worries me. Can Zach Auguste and Pat Connaughton hold up against the front lines from Kentucky, Wisconsin and Arizona?
11. N.C. State (No. 8 East): The Wolfpack might actually be the most talented team left in the East Region. When they come to play, they can quite literally beat anyone in the country. They also needed LSU to completely collapse just to get to the Round of 32. Good N.C. State can get to the Final Four. Bad N.C. State can lose to Louisville by 25.
12. Louisville (No. 4 East): Louisville looked good beating Missouri Valley runner-up in the Round of 32 after they struggled to knock off UC Irvine in the opener. This is essentially a two-man team at this point, with Wayne Blackshear showing up once in a while and Quentin Snider playing out of his mind the last two games. The mitigating factor? Rick Pitino.
13. Wichita State (No. 7 Midwest): The Shockers have looked great through two games in this tournament. I think they have the horses to beat Notre Dame and get to the Elite 8, but there is not enough size along their front line to deal with the best teams in the tournament.
14. Xavier (No. 6 West): The Musketeers are going to have a tough task to get past Arizona, although the combo of Matt Stainbrook and Jalen Reynolds has been terrific this tournament.
15. West Virginia (No. 5 Midwest): The Mountaineers are going to have their work cut out for them getting to the Elite 8, but I think they actually have a shot to beat Kentucky. The Harrisons aren't great ball-handlers and Tyler Ulis is all of 5-foot-10. That Mountaineer press will give them some trouble.
16. UCLA (No. 11 South): Credit to Steve Alford for getting the Bruins this far, but they've gotten here by getting a lucky — but correct, nonetheless — goaltending call and beating a No. 14 seed. Get past Gonzaga, and I'll be a believer.