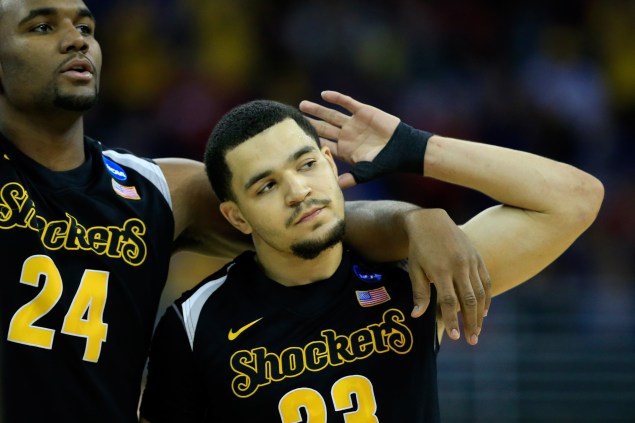 FIRST WEEKEND M.O.P.: Fred VanVleet, Wichita State
VanVleet single-handily kept Wichita State from getting blown out in the first half of the Shocker win over Indiana in the opening round of the tournament, scoring 19 of his 27 points before intermission. Wichita State was down one at the half, but they were able to make a run down the stretch to seal the win. In the Round of 32 win over in-state rival Kansas, VanVleet finished with 17 points, six boards, six assists and four steals, outplaying Jayhawk counterparts Devonte' Graham and Frank Mason as the Shockers advanced to the Sweet 16.
This Wichita State team is not nearly as good as last year's, and that's not a shot at this year's team. That's how much of a difference Cleanthony Early made last year. He had the size and athleticism to match up with any three or four that he would be up against, but he was also their most dynamic scorer and, essentially, a stretch-four matchup problem. This year, they have Evan Wessel, who is as tough as any player in college basketball. But … Early is a pro, while Wessel is a prototypical, undersized mid-major power forward, albeit a good one.
This should tell you two things: 1. How unfair it was that the Shockers got stuck with Kentucky in the Round of 32 last year, and 2. Just how good VanVleet, Ron Baker and company were this season.
ALL-FIRST WEEKEND TEAM
VanVleet
T.J. McConnell, Arizona: McConnell had arguably the most dominant game of the tournament to date when the Wildcats beat Ohio State in the Round of 32: 19 points, six boards, six assists, five steals, just one turnover and 8-for-13 shooting while doing the heavy lifting in holding D'Angelo Russell to 3-for-19 shooting. Dominant.
Devin Williams, West Virginia: For all the talk about West Virginia's press and their ability to force turnovers, Williams was their best player this weekend. 17 points and nine boards in the win over Buffalo in the opening round. 16 points and 10 boards against Maryland to help get the Mountaineers into the Sweet 16.
Kyle Wiltjer, Gonzaga: Wiltjer was his unstoppable self this weekend. In wins over North Dakota State and Iowa, he averaged 23.5 points and 7.5 boards while shooting 18-for-24 (75.0 percent) and 6-for-9 from three. The question now becomes … what happens when he has to defend Kevon Looney of UCLA?
Jahlil Okafor, Duke: Okafor averaged 23.5 points in two games this weekend, shooting 21-for-27 from the floor and blocking five shots. The more impressive part is that he had 26 points against San Diego State, completely rendering their attempts to double-team him ineffective because he does things that seven-footers aren't supposed to be able to do. Like, for example, dribbling out of the double-team then beating his defender off the bounce one-on-one. Freak.
HONORABLE MENTION
Joseph Young, Oregon: Oregon lost to Wisconsin in the Round of 32 in a game that was closer than it should have been thanks to Young, who went for 30 points and four assists in that game. That followed up a 27 point night in the win over Oklahoma State. 57 points in the first weekend of the tournament ain't bad.
Bryce Alford, UCLA: Alford was sensational in UCLA's opener, popping off for nine threes and 27 points, including throwing up the shot that turned into the game-winning goaltend. He followed that up with 22 points and six assists in a win over UAB.
Zach Auguste, Notre Dame: Auguste had 25 points in the opener against Northeastern, and while he nearly lost Notre Dame the game with a pair of turnovers down the stretch against Butler, he also had 13 critical rebounds for an Irish team that can struggle on the glass.
Terry Rozier, Louisville: Rozier had 12 points in the win over UC Irvine and followed that up with 25 points and seven assists as Louisville knocked off Northern Iowa.
Travis Trice, Michigan State: Trice had 15 points and six assists against Georgia, and followed that up with 23 points — including the biggest shot of the game, a three to put the Spartans up eight with three minutes left — in the upset win over Virginia.