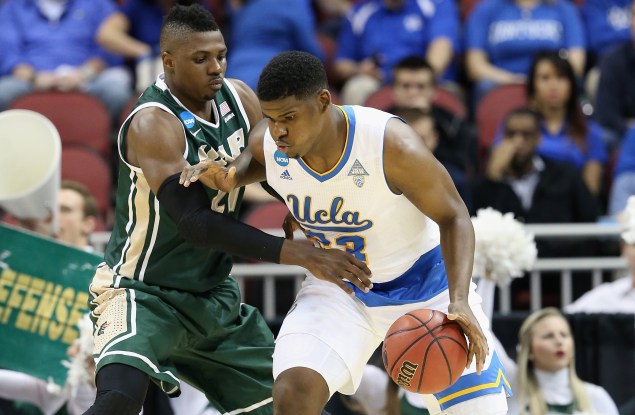 TOP PERFORMERS
Tony Parker, UCLA: Parker had a career-high 28 points — including 19 in the first half — and 12 boards to lead the Bruins to a win over No. 14 UAB. It's the second straight Sweet 16 that UCLA has reached under Steve Alford.
T.J. McConnell, Arizona: The Arizona point guard has been the team's best player all season long, and he showed it again on Saturday night, finishing with 19 points, six assists, six boards and five steals while playing a major role in D'Angelo Russell's 3-for-19 night.
Jalen Reynolds, Xavier: Reynolds had 21 points and six boards, shooting 8-for-9 from the floor, as the Muskteers advanced to the Sweet 16 with a win over No. 14 seed Georgia State. The highlight of this game, however, was this moment between GSU coach Ron Hunter and his son.
GAME OF THE DAY: No. 8 N.C. State 71, No. 1 Villanova 68
The Wolfpack got 17 points from Trevor Lacey and 13 points and 12 boards from Abdul-Malik Abu as they became the first team to knock off a No. 1 seed in their year's tournament. There's quite a bit to digest with this game, and we have it all covered here.
No. 5 Utah 75, No. 4 Georgetown 64: The Utes pulled away down the stretch, but this game was thrilling for a good 37 minutes. The Hoyas came out on fire, jumping out to an 11 point lead, but Utah erased that lead in about five minutes, slowly wearing down Georgetown with a series of big buckets late.
No. 3 Notre Dame 67, No. 6 Butler 64 OT: An instant classic. See below.
BLOCK OF THE DAY: Patrick Connaughton, Notre Dame
Connaughton swatted a would-be game-winning three at the end of regulation, and he followed that up with the go-ahead three in overtime. Not a bad night.
TEAM OF THE DAY: No. 1 Kentucky
The Wildcats set an NCAA record on Saturday, becoming the first team in the history of the NCAA to start a season 36-0. They knocked off a scrappy No. 8 Cincinnati team to get to the Sweet 16. Oh, and Willie Cauley-Stein committed a felony.
INJURY SCARE?: Kennedy Meeks, North Carolina
No. 4 North Carolina outlasted No. 5 Arkansas to get to the Sweet 16, but the concern is the health of Kennedy Meeks. A defender trying to take a charge fell into the side of his knee late in the second half, and Meeks hit the ground hard. He could be seen saying on TV, "it popped", and while he walked off the court, he did so gingerly. North Carolina diagnosed him with a sprained knee.