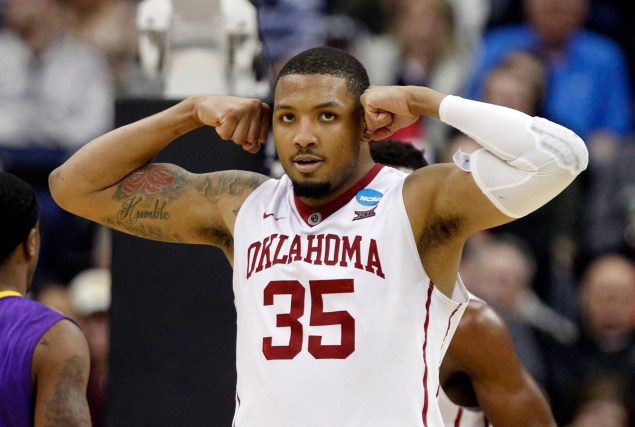 GAME OF THE DAY: No. 5 Northern Iowa vs. No. 4 Louisville, 9:40 p.m. (TBS)
Just your standard Missouri Valley vs. ACC, 4-5 rivalry game to get into the Sweet 16. All joking aside, it's always fun to see a quality "mid-major" program like 31- win Northern Iowa battle a power conference juggernaut like Louisville. Now we can finally see how the Panthers and MVC Player of the Year Seth Tuttle stack up against a team from a league that is currently doing very well in the NCAA Tournament. Louisville needs to hit shots from the perimeter and make sure Montrezl Harrell is doing enough on the interior to potentially get guys like Tuttle in foul trouble. Ben Jacobsen's team won't be fazed by the big-game setting. It may be five years ago, but Northern Iowa beating No. 1 seed Kansas in the Round of 32 is a blueprint for tournament success against a classic basketball powerhouse.
UPSET WATCH: No. 8 San Diego State vs. No. 1 Duke, 2:40 p.m. (CBS)
This has became a trendy upset pick since last weekend because the Aztecs match up with Duke about as well as anyone in the NCAA Tournament. Two of CBT's staffers made this very upset pick in their brackets and if San Diego State gets even a hint of the perimeter shooting they had in the Round of 64 win over St. John's then they're way above the No. 8 seed they sit at. Duke closed out No. 16 seed Robert Morris in impressive fashion as well on Friday night. I know it's a 1-16 game, and the Blue Devils are supposed to win with ease, but 32 field goals on 28 assists like Duke had on Friday is impressive against any Division I team. If San Diego State can double Jahlil Okafor and make things difficult, they could easily upset the Blue Devils. Remember when the Aztecs went into Lawrence, slowed down Joel Embiid and shocked a fully-healthy Jayhawk team? That same thing could happen here if Okafor is contained and San Diego State gets enough offense.
FIVE THINGS TO KNOW
1) Wisconsin seems to be running into the same path as last season's trip to the Final Four. While much has been made of the No. 1 seeded Badgers having to potentially play Arizona again in the West Regional final, Wisconsin also plays Oregon in the Round of 32 for the second consecutive year. Joseph Young is back for Oregon, but this Ducks team isn't nearly as menacing as last year's group — that still lost to Wisconsin.
2) People in the state of Kansas have wanted a Wichita State/Kansas game for the last two years with the recent national rise of the Shockers. They finally get to see it happen for a spot in the Sweet 16. The matchup at point guard between Wichita State's Fred Van Vleet and Kansas' Frank Mason is key here.
3) Much has been made of No. 11 seed Dayton's run of "home" games in the 2015 NCAA Tournament. They get a final game in nearby Columbus, but do they have enough gas in the tank to face No. 3 seed Oklahoma? Remember, this is the Flyers' third tournament game this week and they only have six scholarship players — none of them above 6-foot-6. If the Sooners can get their interior of TaShawn Thomas and Ryan Spangler going, it could be the end for Dayton.
4) An intriguing Round of 32 matchup as Tom Izzo's surging Spartans battle No. 2 seed Virginia. Some believe Michigan State will advance past the Cavaliers, but it's a strong sign for Virginia that Justin Anderson showed some signs of life in the opening-round win over Belmont. Anderson's productivity could have a big impact on the outcome in this one.
5) Can Gonzaga make the Sweet 16? Mark Few has never made it past the Sweet 16 during his tenure and the Bulldogs would be one step closer to achieving that goal with a win over Iowa.
FULL SCHEDULE:
No. 7 Michigan State vs. No. 2 Virginia, 12:10 p.m (CBS)
No. 8 San Diego State vs. No. 1 Duke, 2:40 p.m. (CBS)
No. 7 Wichita State vs. No. 2 Kansas, 5:15 p.m. (CBS)
No. 11 Dayton vs. No. 3 Oklahoma, 6:10 p.m. (TNT)
No. 7 Iowa vs. No. 2 Gonzaga, 7:10 p.m. (TBS)
No. 8 Oregon vs. No. 1 Wisconsin, 7:45 p.m. (truTV)
No. 5 West Virginia vs. No. 4 Maryland, 8:40 p.m. (TNT)
No. 5 Northern Iowa vs. No. 4 Louisville, 9:40 p.m. (TBS)