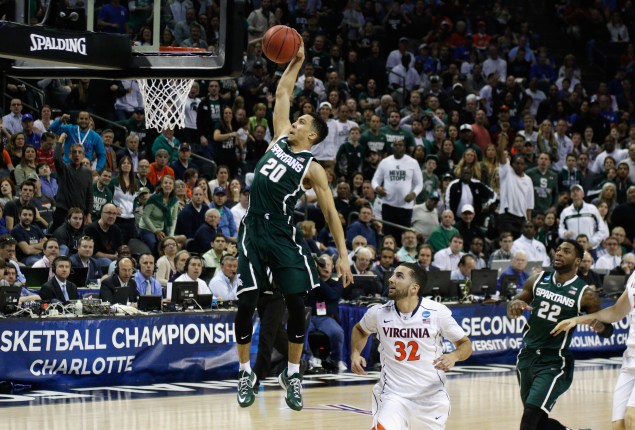 Tom Izzo teams peak in March.
It's the prevailing narrative we've heard about Michigan State for the last few weeks and the No. 7 seed Spartans proved their point with a 60-54 upset win over No. 2 seed Virginia. on Sunday in the East Regional.
Coming out with as strong a defensive effort as they've showcased all season, Michigan State held the Cavalier offense in check on Sunday afternoon. Virginia's offense couldn't buy a basket for much of the game as they shot 29 percent (17-for-57) from the field and 11 percent (2-for-17) from the 3-point line.
Izzo described the Spartans' defense as "unbelievable" in the postgame interview and they made life miserable for the Cavalier offense. Anthony Gill (11 points) and Darion Atkins (10 points, 14 rebounds) were the only Virginia players in double figures and Malcolm Brogdon (nine points) and Justin Anderson (eight points) couldn't find a rhythm on offense.
In the second half, Virginia went nearly 10 minutes without a field goal until Gill's layup with 2:21 left.
A strong start on the offensive end from senior point guard Travis Trice put Michigan State ahead early and the Spartans played with more confidence since they were ahead for the entire game. Trice finished with 23 points while senior forward Branden Dawson had 15 points and nine rebounds.
Michigan State made 50 percent of its 3-pointers on Sunday, going 6-for-12 from the perimeter, and did enough with fast-break opportunities to prevent Virginia from setting up its Pack-Line defense during some offensive possessions.
The Spartans now advance to the Sweet 16 in Syracuse, where they'll play either No. 3 seed Oklahoma or No. 11 seed Dayton.