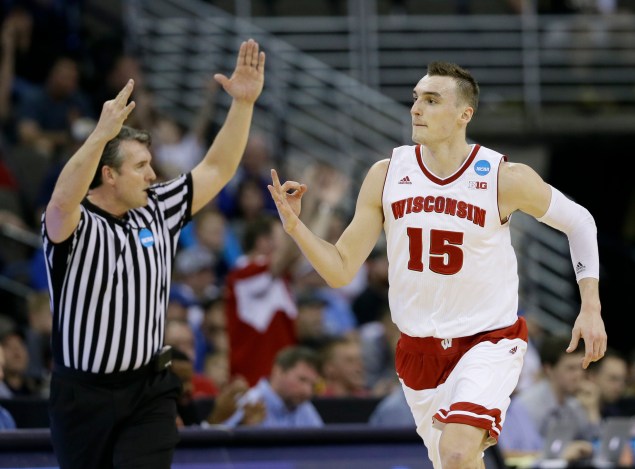 No. 8 Oregon had their chance on Sunday night.
The Ducks never led against No. 1 Wisconsin, but with just under six minutes left their Round of 32 matchup Oregon's Dwayne Benjamin hit a three that capped an 11-4 run and tied the game at 52.
The Badgers had an answer the way they always have an answer, as Sam Dekker sparked a 8-0 spurt that put Wisconsin in complete control. The Badgers closed out the game by hitting their free throws, and they will advance to the Sweet 16 to take on No. 4 North Carolina.
Dekker led the way with 17 points and Kaminsky added 16 in the 72-65 win.
The Badgers entered the NCAA tournament as arguably the second best team in the country, but they've been anything but dominant through the first weekend. Wisconsin beat No. 16 Coastal Carolina in the opening round, but the Chanticleers got just about whatever they wanted offensively in that game.
Now keep in mind that the Ducks are better this season they get credit for — and Joseph Young, who had 30 points on Sunday, is one of the best scorers in the country — but the Badgers were never able to pull away from the Ducks, and that's concerning. It's pretty safe to say that the Badgers have yet to play their best in the NCAA tournament, and if they're going to make a run to the national title, they're going to have to find a way to fix that. If chalk holds, the Badgers are looking at North Carolina, Arizona and Kentucky standing between them and the national title game.
The Badgers are a No. 1 seed for a reason. They didn't win dual-Big Ten titles by accident. And if there is anything we know about the NCAA tournament, it's that the only thing that truly matters is surviving and advancing.
But Wisconsin cannot play like they did this weekend and expect to make to out of Los Angeles intact.