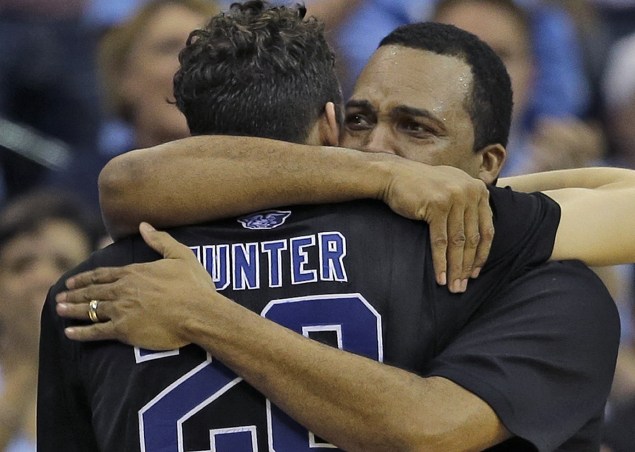 No one had a better week than Ron and R.J. Hunter, but it all had to come to an end at some point.
Ron, the head coach of Georgia State, and R.J., his son, shared a special moment as R.J. checked out of the No. 14 seed's loss to No. 6 Xavier on Saturday night:
The pair rode a tidal wave of emotion. They won a thriller in the Sun Belt title game, a championship that was so exciting that the elder Hunter tore his achilles in the celebration. In the opening round of the NCAA tournament, the younger Hunter sparked a 13-0, game-winning run, hitting a three at the end of the game that literally knocked his dad out of his chair.
Talking in the post game press conference afterwards, Ron couldn't avoid choking up when discussing the experience:
There are so many fantastic characters that coach at the mid-major level in this sport, and Hunter is certainly one of them. They have some decisions to make regarding next season — namely, will R.J. go to the NBA — but I love Hunter's perspective on this.
Hopefully, this isn't the last time we'll see him. And with Kevin Ware returning and Indiana transfer Jeremy Hollowell getting eligible, I have a feeling that he'll be making noise sooner rather than later.