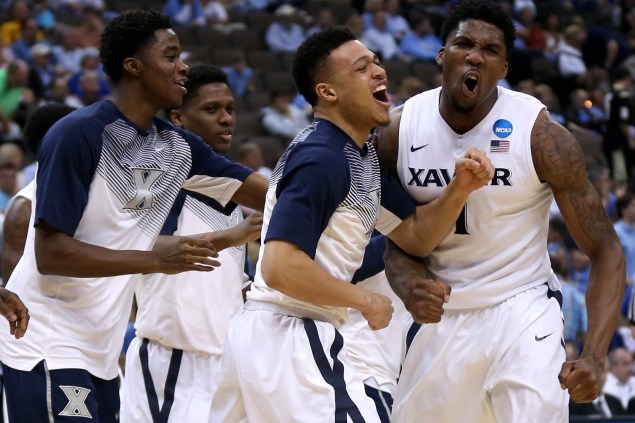 Jalen Reynolds went for 21 points and six boards and Myles Davis added 17 points, including a massive three with just over a minute left in the game, as No. 6 Xavier knocked out the 2015 NCAA tournament darlings, No. 14 Georgia State and the Hunter family, 75-67.
Reynolds, who came off the bench, shot 8-for-9 from the floor while Davis, who also came off the bench, was 5-for-8 from beyond the arc. As a team, the Musketeers shot 67.6 percent from the floor, amassing more turnovers (14) than missed shots (11).
Georgia State's defense simply did stand a chance for most of the second half. The Panthers tried a number of different looks — 1-3-1 zone, 3-2 zone, matchup zones, different man-to-man defenses — but Xavier was simply too good offensively. They were able to get into the teeth of the zone, be it via the pass or dribble penetration, which created open looks for three-point shooters (7-for-13 from beyond the arc on the night) and dunks for Reynolds and Matt Stainbrook.
The Panthers did put up a fairly impressive fight considering that they were again playing with a limited Ryan Harrow. They were down just two at the half, and until a 7-0 spurt — capped by another David three — midway through the second half, this was a one possession game.
Xavier will advance to take on No. 2 seed Arizona, who knocked off No. 10 Ohio State earlier on Saturday night. It creates another intriguing coaching matchup. Arizona head coach Sean Miller left for Tucson after spending a number of years as the head coach at Xavier. There, he mentored Chris Mack, who is the current head coach of the Musketeers.
"Honestly, it stinks. Sean was so good to me. It stinks from a personal standpoint," Mack, who has been to three Sweet 16s in six seasons, said after the game. "It stinks when people that are really close to you and that gave you the opportunity that Sean did have to face each other, but I'd rather face him in the tournament than in the regular season."
It's worth noting that Miller's win over Ohio State came at the expense of one of his closest friends in Thad Matta.